Rob Delaney Opens Up About First Christmas After Losing His Toddler Son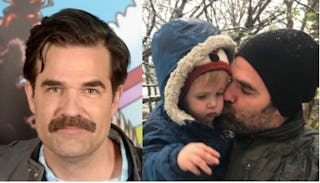 IMAGE VIA DAVE J. HOGAN/GETTY IMAGES/MEDIUM/ROB DELANEY
Rob Delaney opens up about the loss of his two-year-old son, and starts a conversation about grief
On the day after Christmas, comedian and actor Rob Delaney opened up on Twitter about surviving the holidays for the first time after the death of his two-year-old son, Henry, earlier this year. His tweets, he explained, were simply for others who were grieving a loss, or for those who need help supporting a grieving friend.
The Catastrophe star wrote, "Our first Christmas without Henry came & went. The day itself was okay, maybe because there were so many horrible, painful days leading up to it; we must have hit our quota or something. We talked about him a lot & included his memory throughout the day."
He added, "I speak publicly about Henry in an effort to destigmatize grief. My family is sad & in pain because our beautiful 2 yr old boy died after a long illness. Why wouldn't we be sad? Why wouldn't we be angry and confused?"
He then explained the reason he was writing.
"Tweets like this aren't therapeutic to me, nor are they 'updates'. I just want other bereaved parents & siblings to feel seen/heard/respected/loved. And maybe they might help someone not schooled in grief support a friend better. I don't know."
Finally, he posted a picture of his son looking at a tiger in the zoo, along with the heartbreaking caption, "My sweet boy."
Delaney, who was one of the first comedians to rise to fame through Twitter, and who has long been known to share his thoughts and feelings on the platform, lost his son to a brain tumor in January, after a long battle with the cancer. He posted about his family's loss (he has a wife and two older sons) on Facebook in February.
"Henry was a joy," he wrote. "He was smart, funny, and mischievous and we had so many wonderful adventures together, particularly after he'd moved home following fifteen months living in hospitals."
Then, in September, he opened up further about his grief with a touching post about his son that he published on Medium.
"The reason I'm putting this out there now is that the intended audience for this book was to be my fellow parents of very sick children. They were always so tired and sad, like ghosts, walking the halls of the hospitals, and I wanted them to know someone understood and cared. I'd still like them to know that, so here these few pages are, for them. Or for you," he wrote.
Finally, in June, Delaney once more spoke out, this time on Father's Day, again sending love to all parents who have lost a child.
The response from his latest tweets about surviving the holidays were met with support from both celebrities sending their love and parents and siblings who are still struggling from grief and who found support from the message.
For someone who years ago first found success through connecting with others on social media, Delaney is now making important strides in removing the stigma from grief on the same platform – and you can read that it's truly making a difference.