Robert De Niro Throws F Bombs At Trump And Gets Standing Ovation At Tonys
by Christina Marfice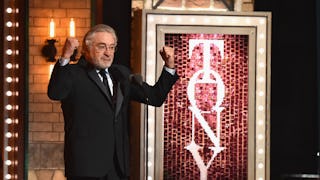 Image via Kevin Mazur/Getty Images for Tony Awards Productions
The audience was fully here for De Niro's message about Donald Trump
So, the annual Tony Awards happened last night, honoring accomplishments in theater all over the country. As you may know, theater tends to be one of the classier mediums of art. It's expensive. People still dress nicely to go. There's no snacks involved. The Tonys are also full of A-list actors, like Robert De Niro, who kind of stole the show last night.
That might be why one very unexpected moment last night seemed completely shocking to the audience. During a speech at the show, De Niro dropped a very casual "Fuck Trump." After a few moments of applause, he then said "It's no longer 'down with Trump,' it's fuck Trump."
But he didn't elaborate any further. That's all he said. He then raised his arms in triumph and basked in the cheers, which took a beat to begin because obviously there was some pearl clutching in the audience. Don't you worry, though. The shock wore off almost immediately, and the crowd turned to cheering and giving De Niro a standing ovation. Some whole speeches don't get that standing O. De Niro managed it with just two words. He's clearly a legend.
Part of what made the moment so hilarious was that both words were bleeped by all the major American networks. That made people watching at home went a little nuts trying to figure out if that was what De Niro had actually said.
People were baffled before the delight set in.
Others just loved it for the drama, which was very on-brand for the Tonys.
And that was it for De Niro's political commentary for the night. He offered no further explanation. He just seamlessly transitioned into his speech, which was completely expletive-free. Then he introduced Bruce Springsteen. Springsteen seemed a little bit inspired by De Niro's unconventional message, and gave the crowd his own political spin.
"In these perilous times, you rock the vote, always fighting for truth, transparency, and integrity in government," he said. "Boy, do we need that now!"
Yes. Yes we do.
While that move was pretty unpredictable, that's show business. And the audience clearly loved it.