Robert Irwin Remembers His Dad With Identical Pics Of Them Feeding The Same Crocodile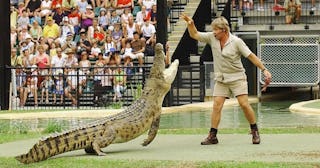 Robert Irwin/Instagram
The identical photos of Robert and his late dad were taken 15 years apart
For those of us who loved watching conservationist and animal-lover, Steve Irwin, on his show The Crocodile Hunter years ago have likely followed his kids, Bindi and Robert, since losing their dad tragically 13 years ago. They've both made Steve's love of animals their own legacy too, which is heartwarming to see, and this week, Robert shared a sweet pic of his dad and a near-identical one of himself taken 15 years apart.
Trust us when we say: you will feel things.
"Dad and me feeding Murray… same place, same croc – two photos 15 years apart," Irwin wrote on Twitter next to a spitting image of father and son doing exactly what they love with the exact same croc — and pose.
The heartwarming images show 15-year-old Robert, who was just three years old when his father died, dressed in the same khaki shorts, button-up, and boots his dad was famous for wearing on his show. Both father and son are feeding the crocodile in front of a crowd, Robert looking exactly like his famous dad.
People were understandably moved by the sweet pic:
https://twitter.com/jetpack/status/1146607083237699584
The Crocodile Hunter was a hugely popular show that aired on Animal Planet in the mid-nineties. Fans followed Irwin, his wife Terri, and eventually their two kids wrestling gators, snuggling with snakes, and saving wildlife. His love of animals was infectious and you couldn't help but be drawn in by both that and his overall love of life. Irwin died when he was just 44 years old while filming an underwater scene for a TV series when a stingray's stinging barb pierced his heart.
Bindi and Robert have followed in their dad's footsteps ever since, both working at his Queensland zoo and conservation center and continuing to fight for wildlife. They've also both had shows on Nickelodeon and Animal Planet, teaching a new generation about the importance of conservation and creating excitement around all kinds of animals.
Recently, Bindi, 20, shared a sweet video tribute to her dad of him talking about fatherhood. "Every time I watch this clip my heart overflows with emotion," she wrote. "The people we love are always with us. Love lives on no matter what & I think that is the most beautiful thing about our existence. Thank you, Dad, this moment captured on camera made my whole life."
According to their website, Robert "continues to travel around the world with his family visiting locations from the African savannah, to the mountains of New Zealand, cities and wilderness in America and Europe and all throughout the Australian bush. He is always enthusiastic to share his love of wildlife and wild places, in the hope that he may inspire others to help conserve our planet for the future."
He is definitely his father's son, a fact that will always comfort those who loved a deeply wonderful man taken from the world much too soon.