CDC Says To Check Your Romaine Lettuce Because There's Another E. Coli Outbreak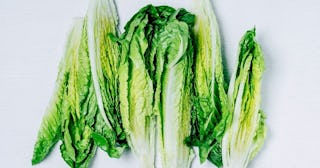 whitemay/Getty
Time to check the labels on all your romaine lettuce (again) because there's (another) E. coli outbreak
Time to check your romaine lettuce (again). The Centers for Disease Control and Prevention have issued a food safety alert warning consumers to stay away from romaine lettuce grown in Salinas, California due to reported cases of E. coli in 16 states. Eerily enough, the last time this happened was almost exactly a year ago. Moral of the story: November is not the time for salads, y'all.
So far, there have been 40 reported cases of E. coli in several states including: Washington, California, Montana, Idaho, Arizona, Colorado, New Mexico, Wisconsin, Minnesota, Michigan, Illinois, Ohio, Pennsylvania, New Jersey, Maryland, and Virginia.
The CDC actually published a handy map of reported E. coli cases relating to the Salinas romaine lettuce:
"Based on new information, CDC is advising that consumers not eat and retailers not sell any romaine lettuce harvested from the Salinas, California growing region," they warn. They explain that most romaine is labeled with a harvest location, so buyers can check for where their lettuce is grown before purchasing. They also stress that the alert covers "all types of romaine lettuce harvested from Salinas, California such as whole heads of romaine, hearts of romaine, and packages of precut lettuce and salad mixes which contain romaine, including baby romaine, spring mix, and Caesar salad."
They shared some tips for those who already have romaine in their fridge:
Look for a label showing where the romaine lettuce was grown. It may be printed on the package or on a sticker.
If the label says "Salinas" (whether alone or with the name of another location), don't eat it, and throw it away.
If it isn't labeled with a growing region, don't eat it, and throw it away.
If you don't know if the lettuce is romaine or whether a salad mix contains romaine, don't eat it, and throw it away.
Wash and sanitize drawers or shelves in refrigerators where romaine lettuce was stored. Follow these five steps to clean your refrigerator.
If you have symptoms of E. coli infection, which can include nausea, vomiting, stomach cramps, bloody diarrhea, fever, loss of appetite, or dehydration, talk to your healthcare provider. The CDC also advises that you write down what you ate in the week before falling ill. So far, no deaths have been reported from this outbreak, but 28 of the 40 people who have it were hospitalized, including five individuals who developed hemolytic uremic syndrome (HUS), a type of kidney failure.
In short, E. coli is nothing to mess with. If there's any shady lettuce in your fridge, ditch it immediately and be careful to check the source when buying any new romaine.