They're Selling Cute, Cheap Rosé At Target — So Dreams Really Do Come True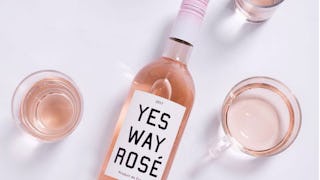 Image via Yes Way Rose/Instagram
Target is selling the dreamiest pink wine collection
Attention all Target shoppers. The cutest, pinkest wine collection is hitting shelves on March 4th — and you're going to want to stock up ASAP. Yes Way Rosé, which launched back in 2013, is heading to the discount store with a $13 price tag, which means you're in for one (or two, or three, or four) boozy, adorable as all hell brunches.
If you're already tantalized by the idea of sipping on some cheap, pink wine (preferably in the bathtub), here's a few more details to whet your whistle. Yes Way Rosé is made in the south of France (natch) and contains notes of strawberry, citrus, and white peach. It's dry and refreshing, according to the collection's website, and goes great with spicy foods.
https://www.instagram.com/p/Bff5H2zHXje/?taken-by=yeswayrose
Also if you're not one of those Instagram/Pinterest-y type people, you just might reconsider after looking at pictures from the line. I mean, hello ~aesthetics.~
https://www.instagram.com/p/BfLt3BaH1dH/?taken-by=yeswayrose
Yes please, I would love to drink pretty pink wine amid gorgeous natural surroundings. Time to hit Target and stock up on this beautiful beverage.
Yeah, so I'm going to need to also go to France immediately, drink all the wine, and also preferably have someone feed me cheese by the pound.
If you can't quite wait until March for this unveiling, you can also snag some rosé-themed apparel from the collection — including a pair of pink and white underwear, because if you're not drinking wine in your underwear there's probably something wrong.
Now, go, live your pinkest, booziest life possible. You deserve all the rosé.