People Are Going Nuts For This Rose Gold Minnie Mouse Backpack
by Christina Marfice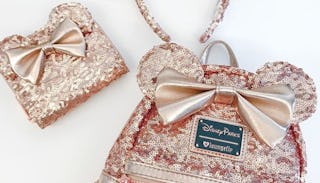 Image via Instagram/DisneyStyle
Say hello to your new go-to accessory, Disney lovers: a rose gold backpack
Lovers of all things Disney, like myself, will have noticed the very millennial-friendly trend being employed across the brand. Like all our jewelry, our iPhones and even our hair, Disney has gone rose gold. First it was rose gold Minnie ears. Then it was rose gold snacks, from cupcakes to macarons. Now, there's a new must-have accessory in town: a sequined, rose gold backpack.
And yes, of course it matches the Minnie ears.
And that matching clutch. The shimmer from the sequins. Fam, this bag is everything. And rose gold is the new black, as we all know very well.
Disney lovers are predictably here for this. Unfortunately for most of us, the rose gold backpack sold out at all Disney parks on the same day they debuted, June 7. There's no word yet on when they may be back in stock (insert tears here). But those lucky (Donald) ducks who got their hands on one have been sharing their treasures all over social media, so at least we still get to gawk and fawn over how freakin' adorable these bags are. Oh, and if you want to pay a little more than you would in the park, you can find it being sold online.
https://instagram.com/p/BjvvXxjH0Ru/?utm_source=ig_embed
So if you have your heart set on a rose gold backpack, complete with Minnie ears and an adorable bow (and you should), you may just be out of luck for now. But until Disney gets these back in stock (come on, Disney!), you can just plan out all the outfits you're going to pair with your precious new Disney backpack. Make the best of that time and accessorize to your heart's content.
And now, Disney, we just need some shoes that will go with these. I'm thinking rose gold (of course) and Cinderella? I'll just go ahead and take my royalties as soon as those sell out, Disney.