Videos Of This Guy And His Grandma Are The Best Thing On The Internet Right Now
by Mike Julianelle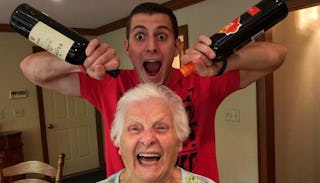 Image via Facebook
Social media star and his grandma are viral video gold
Ross Smith has a secret weapon in his social media arsenal: his Grandma!
The millennial's popular posts have gained him more than 1.5 million Facebook fans and 630,000 Instagram followers, but when you watch his hilarious videos, it's clear who the real star is.
Smith started on the now defunct Vine, but the vlogger's popularity has spread across all corners of social media and the web, thanks, in no small part, to his grandmother's enthusiastic participation.
This video, a compilation of some of Ross's grandma's funniest moments, including lip-syncing to hip-hop, successfully bottle-flipping, and confessing to murder, has over 37 million views.
The pair seem to have a special relationship, and it definitely adds to the appeal of their joint video performances. Though there's a lot of joking, their affection for each other is clear. Like, Grandma must really love her grandson — we don't know too many senior citizens who would take kindly to being shoved into a leaf pile, by a family member or anyone else!
Indeed, Grandma seems to be up for anything, including using props like guns and fake drugs, dancing to music she probably doesn't understand, and mocking herself.
My grandmother is 105 years old and if I went anywhere near her with an air-horn or even an iPhone, the last thing she'd be doing is smiling and playing along. Mostly because she'd probably be sleeping and also she doesn't have a sense of humor.
In such divided times, seeing two generations come together like this, for the sole purpose of making the internet laugh, is nothing short of wonderful. And whether you find Ross's videos funny or not, you have to respect the adorable bond he has with his grandma.
I hope when I'm old and grey my grandchildren don't hesitate to involve me in their efforts to get famous and make money using the interwebs. I only hope I'm half as funny as this little old lady is.
This article was originally published on