Little Louis: Palace Finally Releases Full Royal Baby Name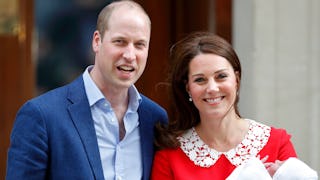 Image via Max Mumby/Indigo/Getty Images
The Duke and Duchess chose names that paid tribute to family for their third child
The world got a brand-new baby prince this past Monday — born at 11:01am UK time to the Duke and Duchess of Cambridge. While the royal parents were lickity split in leaving the hospital that very same day (with Duchess Kate somehow looking like an absolute dream mere hours after giving birth) they took their time in announcing his name. But our long wait is over and we have some exciting news.
Everyone, meet little Louis.
"The Duke and Duchess of Cambridge are delighted to announce that they have named their son Louis Arthur Charles," the Palace announced. "The baby will be known as His Royal Highness Prince Louis of Cambridge."
Look at this little guy — he's too tiny and precious to have so many names.
Of course, Louis is one of his big brother George's middle names, so that's sweet. The replies to the Palace's tweet are full of people clutching their pearls over that fact, but they're family names. Even my non-royal brothers share one with the oldest's first name being the same as the youngest's middle name — it's our deceased grandfather's name and that seems like a normal thing to do.
Louis also holds meaning throughout the ages for the family. Louis is one of Prince William's middle names and Prince Louis Alexander of Battenberg was Will's grandfather. Earl Louis Mountbatten was also a beloved uncle to Prince Charles, William's father. He was assassinated by the IRA in 1979, so this is a nice tribute to him as well.
Speaking of Charles, the new prince's second middle name is an obvious nod to his grandfather. Arthur is also one of William and Charles' middle names.
Considering the Duke and Duchess have a pretty finite list of appropriate names to choose from (it's not like they can name him Mason or Aidan) I think they did a fantastic job. Some even think Louis is in honor of One Direction's Louis Tomlinson, who Kate saw perform last November. Calm down guys, that's definitely not it.
Regardless of the meaning behind it, Louis is a very cute name and the trio of George, Charlotte, and Louis sounds like absolute perfection. We can't wait to see more photos of this little guy as he grows into his very big name.
This article was originally published on