The Royal Wedding Schedule Is Here, So Set Your Alarm Clocks
by Valerie Williams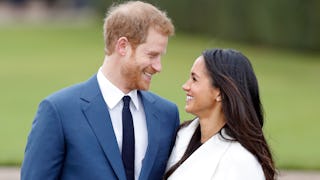 Image via Max Mumby/Indigo/Getty Images
Details of Prince Harry and Meghan Markle's upcoming wedding have been released
I love a good royal wedding and it's been years (nearly seven, to be exact) since I've had the opportunity to set my alarm for 4:00 am and curl up with a coffee to watch a live feed of a wedding most mortals could only ever have in their dreams. But the time has arrived — because Prince Harry and fiancee Meghan Markle have released the schedule of events for their wedding day.
That weird, high-pitched noise you hear is me squealing from now until May 19th, 2018.
The Palace released the details of the couple's impending nuptuals on Twitter this morning, and it sounds like the dreamiest day imaginable. It will start with a noon service at St. George's Chapel, a church on the grounds of Windsor Castle where Prince Charles married Camilla Parker Bowles in 2005, and end with an intimate reception thrown by the groom's dad.
We. Can't. Wait.
Before getting into the nitty-gritty of the day's events, the Palace sent out some kind words of gratitude on behalf of Harry and Meghan for all the well wishes they're received since announcing their engagement.
And now, the good stuff.
The service at St. George's will be be conducted by the Dean of Windsor and officiated by the Archbishop of Canterbury, which sounds like a line straight out of a fairytale.
And speaking of fairytales, once the services conclude, the newly married pair will "undertake a Carriage Procession from St George's Chapel through Windsor Town returning to Windsor Castle along the Long Walk."
As you do. There will be no short walk on this most momentous of days. But all kidding aside, their reason for taking this little trip is a very sweet one — it's so more spectators can see the royal couple in the moments after they're officially married. People stay up all night and set up camp for a glimpse of the newlyweds, so it's very kind of them to make sure as many of their loyal subjects as possible can wish them well.
Then, it's time for a super royal and undoubtedly decadent reception at St. George's Hall.
Followed by the real party thrown by Prince Charles for only close family and friends. We're sure William and wife Kate Middleton, the Duchess of Cambridge, who will have given birth to the couple's third child only weeks before the wedding, will be there. Now that's a truly dedicated sister-in-law.
We can expect plenty of exciting royal moments for the big day, but as Harry is not directly in line for the crown like his big brother, things may be a bit more understated. For instance, William and Kate were married at Westminster Abbey, a massive and centuries-old Gothic church that seats 2,000. St. George's seats just 800 people, so it sounds like Harry and Meghan's ceremony will be slightly more intimate than William and Kate's. Regardless, get ready for more adorable British toddlers in gorgeous outfits and a wedding dress we can collectively drool over.
Just three more months, but who's counting? (Me. I'm counting.)
This article was originally published on