RBG Misses Supreme Court Oral Arguments For The First Time In 25 Years
by Christina Marfice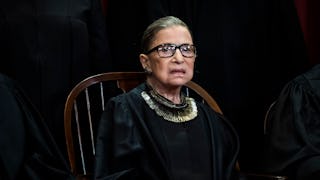 Image via Jabin Botsford/The Washington Post via Getty Images
Ruth Bader Ginsburg missed court today, for the first time since she was sworn in in 1993
In more than 25 years, Ruth Bader Gisnburg hasn't missed a day of work. She's battled cancer multiple times, had surgeries and cracked ribs, yet she's appeared on the bench every time the Supreme Court has been in session since she was sworn in in 1993. Today, she missed oral arguments for the first time as a Supreme Court Justice.
85-year-old Ginsburg is recovering from surgery last month that removed two cancerous growths from her left lung. She was released from the hospital on Christmas, and a court spokesperson said that although she wasn't able to be on the bench today, she is working while she recovers at home. She will still participate in making court decisions, but she'll do so based on written briefs and transcripts of oral arguments, since she isn't there to hear the arguments herself.
There's no official word on when Ginsburg plans to return to the Supreme Court, which will hear arguments tomorrow and Wednesday, and continue next week.
Ginsburg basically has a cult following for being an absolute badass, and her fans took to Twitter to express their worry, love and solidarity.
This is the third time during her Supreme Court tenure that RBG has had cancer surgery, but her surgeries in 1999 and 2009 didn't cause her to miss court. In 2009, she returned to work 18 days after surgery to treat pancreatic cancer. The cancerous nodes on her lungs were reportedly found in November, while she was being treated for broken ribs, which also didn't keep her away from the office for long.
There's a lot of pressure on Ginsburg to remain on the bench, since stepping down would give Donald Trump another court appointment. She was asked whether she would retire early in Barack Obama's second term, but she declined to do so. She has hired court clerks for the term that extends into 2020, so she's clearly not planning to step down from her position.
All we can do is send our best wishes for Ruth Bader Ginsburg's recovery and future health. There's a lot riding on it, and we need her.