RBG Is Cancer-Free And Will Return To The Supreme Court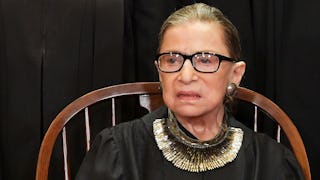 Image via MANDEL NGAN/AFP/Getty Images
Ruth Bader Ginsburg has been given the all-clear and will come back to work after a little more rest
While the rest of the news cycle is a dumpster fire of protected Joshua trees being cut down and Trump leaving government employees without pay while he has a tantrum, we have a glimmer of extremely bright news. Ruth Bader Ginsburg, AKA, the Notorious RBG, has been declared cancer-free and is set to return to the Supreme Court bench after a few more days of rest.
According to NPR, the Justice has no signs of remaining cancer after last month's surgery on her lungs. The disease was discovered during testing after she suffered a fall and broke three ribs in November. I hate using the term "blessing in disguise," but it's hard not to here — that fall could've saved her life.
The court released a written statement from spokeswoman Kathleen L. Arberg saying, "Her recovery from surgery is on track. Post-surgery evaluation indicates no evidence of remaining disease, and no further treatment is required." The statement also affirms that the Justice is cancer-free.
NPR reports that while she rests and recovers, Ginsburg will continue to use briefs and transcripts to do her job from home. There was no cancer in her lymph nodes and thankfully, that's a very good sign as far as her prognosis.
While it feels somehow wrong to keep hoping an 85-year-old woman who has every right to retire can go back to work, this is where we're at. Ginsburg's health is something that many millions of Americans worry about, and every time she has a scare, social media basically loses it. People offer their organs or to carry her around in an adult lady-sized sling — we're all pulling for her, all the time.
Raja Flores, the chief of the division of thoracic surgery at Mount Sinai Hospital in New York, provides some reassuring thoughts. "She's not even three weeks out. She's barely two weeks out," he tells CNBC of her surgery. "I think a lot of people are getting scared because they are concerned about the balance of the court, but I'm confident she's not going anywhere. She's going to be back on the court."
Sounds like we can all rest easy for now — which is exactly what our beloved RBG should be doing too.
This article was originally published on