RBG Coauthored A Book Before Her Death And Soon We'll All Get To Read It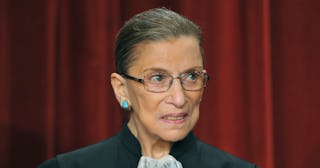 MANDEL NGAN/AFP via Getty Images
Make space on your bookshelf for one final Ruth Bader Ginsburg book, coming soon
At a time when we're all still mourning over the passing of beloved Supreme Court Justice Ruth Bader Ginsburg last month (and missing her smart, measured voice more than ever), along comes a surprise worthy of celebration: RBG has another book on the way.
Prior to her death, Ginsburg worked with Amanda Tyler, one of her former clerks and a current University of California law professor, on a new publication. And this week, the University of California Press announced that it will posthumously publish the book, aptly titled Justice, Justice Thou Shalt Pursue: A Life's Work Fighting for a More Perfect Union.
Originally scheduled for release next fall, the coauthored project will now be released in March. In addition to new material, it will include some of RBG's final thoughts as well as previously unreleased works.
Among its wisdom? Ginsburg's "personal selection of favorite opinions written from the Supreme Court bench (many in dissent)." According to the University of California Press, Justice, Justice Thou Shalt Purse should serve as "a unique lens for understanding how, and for what, Justice Ginsburg would like to be remembered."
As Tyler tells it, she couldn't be more grateful for the time she got with Ginsburg during the writing process. She remembers it — and Justice Ginsburg — fondly. "Over the spring and summer of this year, as Justice Ginsburg and I assembled this book, I had the special privilege of working closely with her one last time," Tyler said via statement.
"As we exchanged drafts of various parts of this book, the Justice was every bit as rigorous an editor as she had been 20 years ago when I clerked for her," Tyler continued. "Right up until the end, she was still teaching me about the craft of writing, how important precision is, and to never use four words when three will do."
The book will be released alongside Herma Hill Kay's Paving the Way: The First American Women Law Professors, which Ginsburg also had a hand in. She wrote the introduction.
It goes without saying that Ginsburg was one of the most defining feminist influences in recent history. Even now, she's spurring women — and future generations of women — to action, like Oregon fifth-grader Ruby Waas Shull, who has launched a petition to have her local middle school renamed in Ginsburg's honor.
And if the countless signs in tribute to RBG at this weekend's Women's Marches around the country serve as any indication, Justice, Justice Thou Shalt Pursue: A Life's Work Fighting for a More Perfect Union will fly off shelves. In fact, it's already the No. 1 New Release in General Constitutional Law on Amazon.
If you can't wait to read this final project from RBG (me, me!), you can pre-order your copy here.
This article was originally published on