Now You Can Channel Your Inner Ruth 'Badass' Ginsburg (For A Good Cause)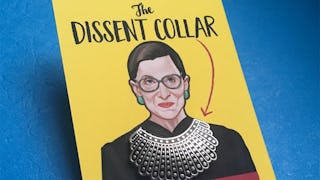 dissentpins / Instagram
Justice Ruth Bader Ginsburg, who was appointed Associate Justice of the Supreme Court of the United States by President Bill Clinton in 1993, has a trademark and we love her for it: She wears a collar each and every time she reads majority opinions as well as when she dissents on decisions handed down from the Supreme Court.
Nick Jehlen, partner and co-founder at Common Practice, had an idea to honor badass Ginsburg and her iconic collar, so over the holidays he was inspired to create some pins representing the collar Ginsburg wore on November 9, 2016, the day after the 45th president of the United States was elected.
After contacting illustrator, Caitlin Kuhwald, 100 enamel pins were made. Each one was given out, and the requests for more kept pouring in. People wanted to show their support for Ruth G. as well as their dissent for our incoming administration's policies.
On January 28, after Jehlen watched lawyers in airports across the U.S. offer their services, free of charge, to refugees and immigrants who desperately needed the legal help and support, he wanted to contribute to their cause. He says, "My first thought was: These lawyers should never want for resources."
So, the Dissent Pin store was born.
Dissent Pins gives 50% of profits to organizations who have a hand in helping maintain democracy such as The Bronx Freedom Fund, an organization that assists in paying bail for those who are charged with low-level, nonviolent offenses in New York and face jail time simply because they can not afford the exorbitant bail amounts. The goal is to keep these families afloat so that instead of spending time in jail they can continue to work, provide for their families, and not lose their housing.
The International Refugee Assistance Project (IRAP) is the first organization dedicated to providing legal assistance to refugees and helping them understand the confusing international resettlement system.
The Center For Reproductive Rights (CPR) has used the law to pursue reproductive rights for over 20 years and is dedicated to making sure women are free to make their own choices regarding where and when to have children, able to access the best health care, and can make their own choices without judgment or discrimination.
If you would like to support causes like these and show your support for Badass Ruth Bader Ginsburg and progressivism, you can snag a pin for $15.
Or you can snag a Dissent Collar Necklace (I just ordered one):
And a Ruth Bader Pin:
This is an amazing tribute to Ginsburg, the woman who has so wisely made such true and valid points by saying things like:
"My mother told me to be a lady. And for her, that meant be your own person, be independent."
"The state controlling a woman would mean denying her full autonomy and full equality."
"Women will have achieved true equality when men share with them the responsibility of bringing up the next generation."
So grab a pin or necklace and wear it proudly.