Ruth Bader Ginsburg Undergoes Surgery For Early-Stage Lung Cancer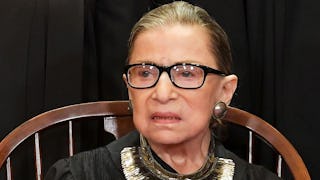 Image via MANDEL NGAN/AFP/Getty Images
Let's all send our happiest thoughts RBG's way while she recovers
Justice Ruth Bader Ginsburg underwent surgery this morning for early-stage lung cancer. Doctors at Memorial Sloan Kettering Hospital in New York performed a lobectomy, which was successful.
And because she's Ruth Bader Ginsburg, she plans on being back on the court for the start of the next argument session in early January.
Doctors are hopeful for a full recovery for the 85-year-old Ginsburg, according to NPR. The cancer was actually discovered after Ginsburg's fall last month when she fractured several ribs. Initial CT scans of her ribs showed an abnormality in one lobe of the lung.
After undergoing biopsies and testing, two non-small cell cancerous lesions were discovered — but the cancer had not spread to her lymph nodes.
In early November, Ginsburg fell while working in her office. She was taken to a local D.C. hospital, where it was determined she fractured three of her ribs. When news of her fall broke, people all over came forth to share their anxiety over RGB's health.
Why is a large portion of our country concerned into a panic over the health and well-being of an 85-year-old woman who should, by all means, work only if she wants to, but also absolutely be able to retire if she wants to?
Well for the answer to that question, all you need to do is look at the state of the country as a whole and the Supreme Court, specifically. RBG is one of only four Democrats who sit on the Court, where Republicans hold the majority.
Remarkably, this is not the first time Ginsburg has endured cancer — she's also survived colorectal and pancreatic cancer. Basically, she's our collective badass grandma who we all hero-worship because of her staggering list of professional accomplishments.
And because of that, we want her to get well, pronto.
"According to the thoracic surgeon Valerie Rusch, both nodules removed during surgery were found to be malignant on initial pathology evaluation," an official statement from the Supreme Court reads. "Post-surgery, there was no evidence of any remaining disease. Scans performed before surgery indicated no evidence of disease elsewhere in the body. Currently, no further treatment is planned. Justice Ginsburg is resting comfortably and is expected to remain in the hospital for a few days."
Whew. Our thoughts and well-wishes are with our beloved RBG, and we hope to hear continued news of her good health through the new year — it's what we all need and deserve in 2019.
This article was originally published on