Praise Be: Ruth Bader Ginsburg Plans To Stick Around Another 5 Years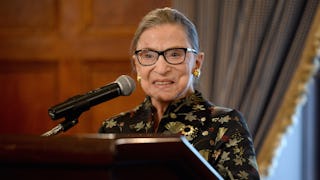 Image via Michael Kovac/Getty Images
Ruth Bader Ginsburg says she's not budging from her Supreme Court Seat for half a decade and we're here for it
There hasn't been a ton of feel good stories in the news lately, but leave it to badass 85-year-old Supreme Court Justice Ruth Bader Ginsburg to keep us hopeful. The second-ever female justice stated on Sunday night that she's not retiring any time soon.
RELATED: 30 Golden Retirement Gifts To Celebrate Their Golden Years
"I'm now 85," Ginsburg said. "My senior colleague, Justice John Paul Stevens, he stepped down when he was 90, so think I have about at least five more years."
The feminist justice spoke publicly after going to see a production of "The Originalist" at the 59E59 Theater in New York, a play about late Justice Antonin Scalia. Ginsburg and Scalia were long-time friends despite their stark political differences.
"If I had my choice of dissenters when I was writing for the court, it would be Justice Scalia," Ginsburg said, saying that the back and forth would help her form her arguments. "Sometimes it was like a ping-pong game."
Democrats have feared that the "Notorious RBG" would retire during President Trump's first term, allowing him to nominate another conservative judge and skewing the Supreme Court as a whole sharply to the right. Earlier this month, Trump nominated Brett Kavanaugh for the vacancy left by retiring judge Anthony Kennedy — a man with a history of conservative leaning when it comes to gun laws, women's health, and immigration.
Earlier in his term, Trump nominated conservative justice Neil Gorsuch after Barack Obama was blocked by the Senate from nominating a judge at the end of his term following the death of Scalia.
But Ginsburg's latest statements, paired with the news that she's hired law clerks through the year 2020, show that she's going to hold out on vacating her seat at least until Trump has to face re-election.
Ruth Bader Ginsburg will celebrate 25 years on the Supreme Court next week — she was sworn in after being nominated for the court by Bill Clinton in 1993. During her time on the bench, she's been a champion of women, minorities, and the underprivileged, and well-known for everything from her eloquent written arguments to her amazing robe collars. She's also a two-time cancer and heart surgery survivor who's barely missed a day on the bench.
During the Trump administration, she has been looked up to as a vital voice of dissent — at the same time that many left-leaning fans desperately hope that she stays healthy and able to work. Even Stephen Colbert joined her for one of her famed daily workouts.
RBG also had a few words to say about the current administration as she discussed politics with "The Originalist" Director Molly Smith. When asked what keeps her hopeful, Ginsburg talked about her husband Marty Ginsburg, who died in 2010.
"My dear spouse would say that the true symbol of the United States is not the bald eagle — it is the pendulum," Ginsburg said. "And when it goes very far in one direction you can count on its swinging back."
If an 85-year-old cancer survivor can stay positive and keep fighting — for years — so can we.
This article was originally published on