Ruth Bader Ginsburg Sends Girl Who Dressed Like Her For Superhero Day Handwritten Note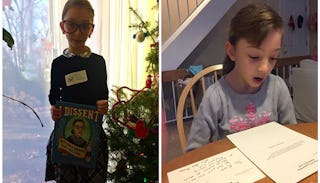 Michele Threefoot dressed as Ruth Bader Ginsburg for 'Superhero Day'
Justice Ruth Bader Ginsburg made an 8-year-old's day (and ours) when she sent her a handwritten note about her glorious costume for Superhero Day. We met Michele Threefoot a few weeks ago when she overlooked Marvel and DC comic book superheroes and instead dressed like an actual hero – The Notorious RBG, aka, Ruth Bader Ginsburg.
Ginsburg, 83, was the second woman appointed to the United States Supreme Court and has become an iconic figure for her take no shit attitude. Since 1993 she's defended reproductive rights, gay rights, and women's rights from the bench. While reading "I Dissent: Ruth Bader Ginsburg Makes Her Mark" — a book about Ginsburg's life — Michele became inspired to dress up like the justice.
From the pulled back bun, large glasses, and no-nonsense gaze, the little girl definitely nailed it as RBG. The internet loved her superhero costume so much that it made its way to RBG's assistant and then to the justice herself. Ginsburg sent Michele a handwritten card along with a printed quote. "When I read it, I felt really happy because she said I looked just like her. It was really special because she wrote it by hand," Michele told her mom Krista, according to The Huffington Post.
The note read: "Dear Michele: You look just like me! May you continue to thrive on reading and learning. Every good wish, Ruth Bader Ginsburg." Understandably, Michele looks slightly shocked reading the note for the first time, which her mom caught on camera and shared on Facebook. Can you image your real life hero writing you a letter?
Michele's desire to dress like RBG stemmed from her reading about the justice's work. "The book talks a lot about the prejudices Ruth Bader Ginsburg faced as a child and about how she has worked her whole life to fight inequality in our country," Michele's mom Krista explained. "Michele gets pretty passionate about unfairness, especially relating to girls and women, so the book's message really stuck with her." So it makes total sense that RBG included a quote about reading in her letter to the inspiring 8-year-old.
The quote reads: "Reading is the key that opens doors to many good things in life. Reading shaped my dreams, and more reading helped me make my dreams come true." Clearly, Michele is already an awesome kid, but we've got a feeling this special note from RBG is only going to make her double down on her reading. "I would really [like] to thank Justice Ginsburg for being such an inspiration to all of us, and for being so committed to fighting for equality," mom Krista said. "I also want to thank her for taking the time to make a little girl really, really happy."
And while Ginsburg is Michele's inspiration, the thoughtful 8-year-old is already inspiring others. First, she made the internet scream "hell yes!" with her costume, and now she's motivated her classmates to think outside of the superhero box. Michele took her letter to school last week, where her teacher read it to the class and taught them about the Supreme Court.
Now her classmates want to ditch the capes and dress up like real heroes.