Ryan Reynolds Opens Up About His Struggles With Anxiety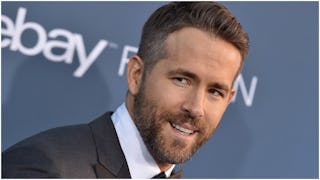 Image via Axelle Bauer-Griffin/Getty
Ryan Reynolds got very honest about his struggles with anxiety
There are many reasons to love Ryan Reynolds. He's funny, philanthropic, a good actor, looks like a Greek God, and is charming (very, very charming). He's also unapologetically honest about his struggles with anxiety, which pretty much tops that list altogether.
Reynolds opened up about his internal battles during an interview with The New York Times. "I have anxiety, I've always had anxiety," the actor said. "Both in the lighthearted 'I'm anxious about this' kind of thing, and I've been to the depths of the darker end of the spectrum, which is not fun."
He tracks some of his struggles back to his early 20's, which he called a "real unhinged phase" in his life. Reynolds would wake up in the middle of the night, gripped with feelings of anxiety and fears about the future. For awhile, he tried to solve his problems by self-medicating. "I was partying and just trying to make myself vanish in some way," he shares.
These days, the actor has developed healthier coping mechanisms for dealing with his feelings. He uses the meditation app Headspace, and gets a dose of self-assurance from performing.
"When the curtain opens, I turn on this knucklehead, and he kind of takes over and goes away again once I walk off set," he said. "That's that great self-defense mechanism. I figure if you're going to jump off a cliff, you might as well fly."
He also gives credit to his wife, Blake Lively, for making things a whole lot better. During an interview with Variety last year, Reynolds recalled the immense amount of pressure he felt before the release of his film Deadpool. "I never, ever slept. Or I was sleeping at a perfect right angle — just sitting straight, constantly working at the same time," he said. "…By the time we were in post, we'd been to Comic-Con, and people went crazy for it. The expectations were eating me alive."
He added: "Blake helped me through that. I'm lucky to have her around just to keep me sane." Yet another reminder that Blake Lively and Ryan Reynolds are just pure, delightful gold.
All the applause to Ryan Reynolds for being so honest and upfront about his mental health. It's a brave move on his part, and a helpful reminder to anyone struggling with anxiety that they're definitely, definitely not alone.
This article was originally published on