Ryan Reynolds Advertises Aviation Gin 'Home School Edition'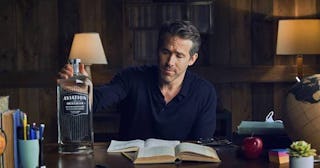 Aviation
Reynolds actually created a new version of his gin just for 2020 parents
Father-of-three Ryan Reynolds has had it with homeschooling. Lucky for us, that's inspired him to create a new variation of his Aviation American Gin called Aviation: Home School Edition.
Reynolds would like 2020 to come and go as quickly as the rest of us. Since we still have three months left and those months require most of us to school our children at home some or all of the time, the best course of action is to drink some gin. The actor dropped a new ad, explaining that the latest version of the drink is "just like the classic delicious Aviation Gin that you love but with more ounces." Nailed it.
"It's back to school time, which this year has a whole new meaning," Reynolds says in the ad on Instagram next to a caption reading: "Aviation Home School edition. Official sponsor of Parent-Gin conferences." Reynolds also said his gin can "help with a variety of subjects: fourth-grade geography, whatever the fuck new math is, and revisiting your own, long-forgotten middle school traumas," he joked.
As the ad comes to a close, a school bell rings and Reynolds laments: "Middle school is the fucking worst."
Reynolds sold Aviation Gin to Diageo earlier this year for $610M in an earn-out deal and put a cheeky out-of-office on his email address for the sale. "In related news, I just learned what an 'earn out' is… And I'd like to take this opportunity to apologize to everyone I told to go f— themselves in the last 24 hours. My lawyers just explained how long it takes to achieve an 'earn out'… so… turns out I'm not as George Clooney as I thought," he said, referring to the $1 billion deal Clooney and Rande Gerber's Casamigos Tequila made with Diageo the year prior.
If you think this is just some sort of marketing ploy to get people to buy Aviation gin… well… it is, but Reynolds actually created a new bottle just for us parents. The 1.75L sells for $60 which is cheaper than therapy, so that's cool. "Instead of being overpowered by juniper – the flavor of which many perceive to be "harsh" or "medicinal" – Aviation is a balanced blend of seven botanicals: juniper, cardamom, lavender, sarsaparilla, coriander, anise seed, and dried orange peel," the product description reads. Sounds good to me.
The company tweeted the good news as well and continue to be helpful by mentioning the bottle also "functions as a 14 inch ruler."
Ryan Reynolds is the gift that keeps on giving.
This article was originally published on