Ryan Reynolds & Blake Lively Bought A House Together A Week Into Dating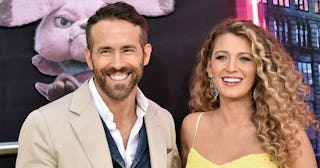 Steven Ferdman/Getty
In a new interview, Ryan Reynolds opens up about just how fast things moved when he started dating Blake Lively
When you know, you know — at least that's the case when it comes to Ryan Reynolds and Blake Lively deciding to buy a house together very shortly after they began dating. In a new interview, Reynolds details how their early relationship moved fast, describing it as "like out of a fairytale," and basically, be prepared to sigh very dreamily.
"I met Blake on the darkest crease in the anus of the universe called Green Lantern," Reynolds tells Jason Bateman, Sean Hayes and Will Arnett on the SmartLess podcast of the 2011 superhero film the couple co-starred in. "We were friends and buddies and about a year and a half later we went on a double date but we were dating separate people."
Reynolds explains that he and his future wife "hung out" and "always kind of kept in touch but casually" before things became romantic.
"Next thing you know, she was going to Boston, I was going to Boston and I said, 'Well, I'll ride with you.' We got on the train and we rode together," he said. "I was just begging her to sleep with me." Assuming that last bit was said with Reynolds' trademark sarcasm.
He says he made the first move and jokes that he played on Lively's emotions to get her attention. "I would use a little bit of tear stick so I could get the tears kind of rolling … then I would tell a little sob story about my life."
Then, he shares exactly how fast things got serious once the two started officially dating.
"A week later I was like, 'We should buy a house together,'" he said. "And we did."
This probably doesn't come as a shock to fans of the pair. They're clearly head over heels for each other still, almost nine years into their marriage, and that's probably because they enjoy trolling each other on the internet.
No, seriously — these two have me convinced that the couple that mocks each other on social media together, stays together. Take Reynolds' mostly sappy and gushing post honoring his wife, mom to their three little girls, for Mother's Day. He writes the equivalent of a Hallmark card praising Lively for being "the heart and soul of every moment this family shares." Then, he reverts to his usual voice and tells the world, "Never could I have predicted anonymous airport bathroom sex would lead to this. Or how you'd hire Dog The Bounty Hunter to find me."
For her part, Lively recently posted about her husband helping color her hair at home writing, "That time I f*d my hairdresser."
And who can forget the birthdays spent making fun of each other or Reynolds posting supposedly unflattering photos of Lively (I'm sorry, but no photo of this woman is unflattering). They're masters of not taking themselves too seriously and it's really quite adorable. Sounds like it was all meant to be from the very start.