Ryan Reynolds Documents COVID Test With Hilarious Caption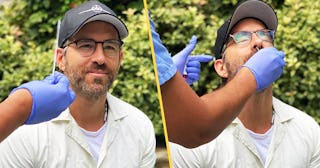 Ryan Reynolds/Instagram
If you've wondered what it's like to get tested for Covid, well, Ryan Reynolds' face (and his caption) in these photos says it all
Even though the coronavirus pandemic is still raging around the world, and especially in the U.S., life in America is very slowly grinding back toward normal — or as close to it as possible under the circumstances. That includes production being resumed on a lot of TV shows and movies that got postponed because they were filming or set for release earlier this year. However, in order to film safely, sets have a new requirement for all their stars: Regular Covid testing.
Ryan Reynolds is back on the set of his upcoming Netflix thriller, Red Notice, but before he could get to work, he had to get tested. Luckily, his wife Blake Lively was there to document every moment of the Covid test, and Reynolds shared the pics with all of us alongside the perfect caption.
"Back to work on #RedNotice. The Covid Test is quick and easy," he wrote. "The doctor places the swab up your nose, just deep enough to tickle your childhood memories and then it's over. No matter what you say to him, he won't buy you dinner first."
That last photo though. Anyone who has had a Covid test can physically feel that picture.
Reynolds wasn't the only one getting his Covid test before getting back to work. Gal Gadot, who co-stars in Red Notice, also documented her test, wearing a very appropriate T-shirt. Like, where can I get one of those?
Red Notice also stars Dwayne "The Rock" Johnson, who just recently revealed that he and his entire immediate family (save for his oldest daughter) tested positive for Covid. There's no word about whether he's back on set yet, but in his last Instagram update, he said that despite a difficult recovery, he and his family are on the other side and no longer contagious.
This article was originally published on