Ryan Reynolds' Tribute To Teen Who Died Of Cancer Will Make Your Heart Explode
by Jerriann Sullivan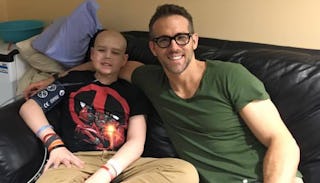 Ryan Reynolds shares moving tribute to major 'Deadpool' fan on Facebook
Ryan Reynolds wrote a heartfelt tribute to a young teen who died of cancer this week. The movie star shared the touching message on his Facebook page calling 13-year-old Connor McGrath his "funny friend." As it turns out, the "Deadpool" actor had a very close relationship with McGrath until the very end. And what he had to say about their relationship will move you to tears.
"He was smart. He was funny. And not just funny 'for a kid' – or funny 'for a person battling something awful'. He was unqualified funny. He had that… thing," Reynolds wrote. "That thing you see in great performers or comedy writers. A running commentary/observational skill people are just lucky to be born with."
Connor was diagnosed with high-risk acute lymphoblastic leukemia in July 2013 and relapsed in May 2015, according to a YouCaring page his family set up to raise money for an experimental cancer treatment in the United States. The teen went through rounds and rounds of intense chemotherapy over the years, but his health deteriorated too quickly to participate in the experimental procedure. The Make-A-Wish Foundation brought Reynolds and Connor together, but the pair quickly formed a strong bond that kept them in touch. Over the years, they exchanged "pages and pages of hilarious texts," Reynolds said.
The teen was a huge fan of "Deadpool," so Reynolds gave him a gift any teen boy would be thrilled to receive. "Connor was the first person to see Deadpool. I traveled up to Edmonton, Alberta to surprise him with a rough cut of the film," he wrote on Thursday. "There were still huge sections with wires we hadn't yet painted out, jokes which weren't working (and still aren't) and green screens. Connor didn't seem to mind." The teen was known for making family, friends, and the Edmonton's Stollery Children's Hospital staff laugh often. Connor's spirit inspired Reynolds. "In a certain sense, he WAS Deadpool. Or, at least everything Deadpool aspires to be; balancing pain, fearlessness, love and a filthy (filthy!) sense of humor in one body. I wish he could've stuck around a lot longer."
Reynolds wrote that Connor kicked cancer's ass for three years, but ultimately lost his battle. The teen passed away at home on Tuesday surrounded by family. "He went way too early, and it's impossible to reconcile. Connor was a great friend, a great son, and a light to the people lucky enough to know him," he wrote. Reynold's tribute was reshared on Facebook by members of Connor's family, including his dad, Gerald, who also wrote, "Your dad's little angel now … [you're] free of everything. You don't have to worry anymore. Love you, little man."
Rest in peace, Connor.