Ryan Reynolds Made A Surprise Appearance On A Korean Singing Show
by Christina Marfice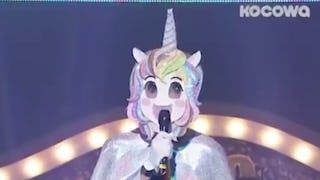 Image via Kocowa Official / Twitter
Ryan Reynolds was promoting Deadpool 2 in South Korea, and then this happened
Happy Monday, and welcome to the internet, where some really weird, incredible stuff happens sometimes. In today's edition, Ryan Reynolds appeared on a Korean singing competition show over the weekend, and no, that's not even as random and incredible as this story gets.
The show Reynolds made his surprise appearance on is called King of Mask Singer, and in it, celebrities hide their identities with elaborate masks and costumes to compete against each other in a The Voice-esque blind singing competition. Reynolds was dressed as a unicorn, with a sparkly cape to match his mask, and he sang "Tomorrow" from the musical Annie, which is apparently a favorite of one of the judges. Oh, and no one had any idea it was him.
Observe.
Is it just me, or does Reynolds kind of have the voice of an angel? It's so clear and he nails those high notes? What's this guy doing acting instead of singing? I want to see a revival of Annie with Reynolds as the lead. Consider this his audition; he nailed it.
After that show-stopping performance, Reynolds had to reveal his identity to the judges and the crowd, and predictably, everyone lost their shit. I don't understand Korean, but I sure understand the one word that the judges keep yelling: "Deadpool."
Apparently, Western celebrities don't make too many appearances on King of Mask Singer. Reynolds was there specifically to promote Deadpool 2 in Korea, but based on the reaction he got, he probably shouldn't be the last U.S. celeb to be on the show. And even though I've never even heard of this, apparently King of Mask Singer has something of a cult following in the U.S.
The internet was pretty shook by Reynolds' surprise appearance, but most people, like us, just relished in how delightfully weird the whole thing was.
Even without A-listers involved, this seems like a show we should all be watching. We love The Voice, but add masks, costumes, and show tunes and we're officially hooked.
This article was originally published on