Ryan Reynolds' 'Match' Ad Has Wedding Singers Begging People To Date Again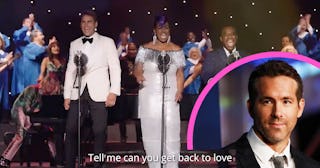 Ryan Reynolds and Jason Mendez/Getty
Ryan Reynolds' production company is behind a hilarious Match ad that asks people to start dating again post-COVID so wedding singers can get their jobs back
Dating app Match just released a new ad featuring actual wedding singers begging people to "get back to love" so they can "get back to work" and if you watched it without knowing it had something to do with Ryan Reynolds, you might still suspect it because the whole thing is extremely his brand TBH.
The ad comes to us from Reynolds' production company, Maximum Effort, and truly, no effort was spared in the making of this actually super entertaining commercial. The dating world was rocked to its core by the COVID-19 pandemic, which had folks locked up and distancing for months, which meant the wedding industry pretty much ground to a halt. Now, vaccines and dropping case rates have the U.S. gearing up for a hot vax summer and that means maybe some weddings down the line? That would be music to these wedding singers' ears after a year of cancelled events and missing income.
"This new song from @TauraStinson, @ShaneMcAnally and @PasekAndPaul is on repeat til further notice. I literally wept when I first heard it performed by this incredible group of wedding singers," Reynolds gushed on Twitter.
During an appearance on Good Morning America to promote his new film Hitman's Wife's Bodyguard Reynolds shared that the performers in the video were all actual wedding singers, many of whom lost performing gigs throughout the pandemic. "This is a piece about getting back to love," he tells GMA. "Maximum Effort, my company we adore bringing people together. 2020 brought people together in a different way. Now trying to bring them together with an all-around great song."
He also opened up about his own distant memories of the dating world after being married to wife Blake Lively for almost 10 years.
When asked if he remembers dating he says, "I kinda do because at least I was there with my wife," he says. "The last date I went on with someone that wasn't with Blake, it was a double date where Blake was with someone else and I was on a different date. We all went together and then a couple months later she and I ended up on a train together to Boston and that's where the sparks flew and the rest is history."
Lively promoted the hilarious spot on her own social media but of course, worked in some of the couple's trademark snark. "How I find out my husband is on match…," she quips. "This song though 😍🤯💀 "
And like, she's not wrong? It might be a commercial, but the song is an absolute bop that will probably go through your head for the rest of the day. Which is basically the whole point of a commercial, so it looks like Reynolds' venture is a success.
This actually isn't the first ad Maximum Effort has produced for Match. You may recall a little vignette released last December about Satan himself finding love amid the absolute hell-scape that was 2020 all set to Taylor Swift's "Love Story." The tagline for the bit reads, "A match made in hell is still a match." Indeed.
Let's all hope that even if Ryan Reynolds decides to quit acting one day (please don't though?) that his production company keeps pumping out these amazing ads that somehow manage to be a whole entertaining, funny, and surprisingly touching story in two minutes.