Ryan Reynolds Has Blessed Us By Joining TikTok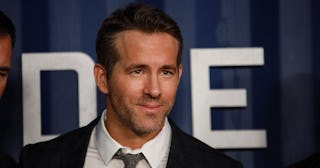 Jason Mendez/WireImage
Actor Ryan Reynolds has finally joined TikTok, and fans are understandably freaking out
Ryan Reynolds is finally blessing TikTok with his presence, and fans of his hit comedy Just Friends are going to absolutely love his first post.
The video opens on a blank white wall as we hear the iconic love song "I Swear," by All-4-One play. Reynolds then glides onto the screen to lip-sync to the tune in an homage to the opening scene of the 2005 movie, throwing in some amazing jazz hands for good measure (any of us who were young girls in the mid-90s probably performed this same routine many times, probably singing into a hairbrush while doing so).
"I swear you will be disappointed by this account," the Canadian actor captioned the video, which quickly racked up millions of views. Fans were quick to disagree, and within just a few hours of starting the account he'd gained hundreds of thousands of followers (with the number literally rising by the minute — I refreshed my app once and the count jumped by a quarter of a million).
"I WOULD LIKE TO THANK WHOEVER TOLD YOU TO GET ON TIK TOK," one fan wrote.
A surprising number of fans commented about partners with crushes on Reynolds who they expected to absolutely go wild when they found out about the new account. "Please Ryan," one joked, "My husband is on this app, I don't want to lose him."
A huge number of comments, however, mentioned Reynolds' better half. "Wow can't believe Blake Lively's husband has tik tok," one fan wrote. Reynolds and Lively have a long-running gag war on Twitter and Instagram, where they've traded off posting unflattering pictures of each other, or showcased artfully cropped photos that focus on other celebrities instead of their spouse.
I am so pumped to see if they'll take their hijinks to TikTok (and don't even get me started on Ryan's fake feud with Hugh Jackman).
A second video posted by Reynolds gave fans a glimpse of his Deadpool makeup — and hinted at why he might have joined the app at this particular moment in time. That second video shows Deadpool donning a Wrexham AFC jersey (the Welsh soccer team that Reynolds co-owns with It's Always Sunny in Philadelphia star Rob McElhenney, who also joined the app for the first time to unveil the news). The TikTok logo can be seen front and center on the jersey, because the app is now an official sponsor of the team.
Corporate sponsorship or not, I have a feeling fans are going to love seeing Reynolds in their FYP. Now if we can just get him to convince Blake to join, too.