Ryan Reynolds Just Trolled Blake Lively So Hard We Can't Stop Laughing
by Valerie Williams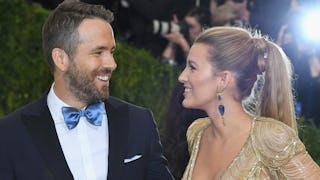 Image via Dia Dipasupil/Getty Images For Entertainment Weekly
He got her so good
Ryan Reynolds and Blake Lively are total couple goals. The adorable pair, parents to two young daughters, have shown us time and again what keeps their marriage sexy and exciting. And it's not skimpy lingerie or elaborate adults-only vacations or a bottle of champagne and Netflix.
It's savagely mocking each other online. Duh.
Well, it is if their recent efforts at pranking each other on their social media accounts are any indication, that is. The two have made a habit lately of using Twitter and Instagram to poke fun at one another, and their fans are totally here for it.
Behold, the latest gem.
Yup. He went there. Reynolds shared a photo on Instagram of his normally immaculately dressed and made-up wife looking…not so immaculate. The photo included the caption #nofilter, because Reynolds is a sarcasm wizard. The snap was taken on the set of Lively's upcoming film, The Rhythm Section, where her character is a grieving woman out for revenge after losing her family in a plane crash.
But most of Reynolds' Instagram followers probably don't know she's in character since he left that information out of his caption, so it appears only that the actor is sharing a picture of his wife simply not looking her best.
The comments section is full of people dying laughing and calling Reynolds a "savage" troll, which he absolutely is. But as far as this marriage is concerned, he's not alone in being a master of social media pranking.
Last month, Lively got sweet revenge on her husband's birthday by tweeting out a photo of him with Ryan Gosling, but cropping Reynolds almost entirely out of the image. It was in response to his own birthday wishes for her a few months back, when he shared a picture of the two of them with Lively mostly cropped out.
She definitely won that round.
And we totally can't wait to see who wins this one.