Ryan Reynolds Trolls Divorce Rumors In The Best Way Possible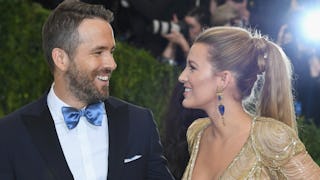 Image via Dia Dipasupil/Getty Images For Entertainment Weekly
Ryan Reynolds combats divorce rumors in the most Ryan Reynolds way possible
If you don't know, now you know: Ryan Reynolds has unlocked so many expert troll levels online, we've lost count at this point. Basically, he's incredibly talented in how he uses social media and his latest tweet is no exception.
Because Ryan Reynolds isn't here for your divorce rumors (I mean, have you seen Blake Lively?). Or maybe he is, because he's just so damn good at taking those things in stride, it's hard to tell.
It all started with this tweet from @IBTimes_India:
"Deadpool Ryan Reynolds and wife Blake Lively struggling to spend 'quality time.'"
Which, whatever, it's pretty typical to see celebrity "marital strife" headlines when one half of the married couple is in the middle of a big project, and one is not. Sometimes the headlines are accurate, a lot of the time — they're definitely not.
Enter Ryan Reynolds, who could do what most A-list celebrities do, which is not respond in any way. But then he wouldn't be the Ryan Reynolds we all know and love.
LOL. After I stopped guffawing, I soberly started nodding along to this tweet, because SAME.
Reynolds and Blake Lively have often given us plebs plenty to guffaw over, social media-wise. Like when they savagely mock each other online — it's just so pure and relatable. There was that one time Reynolds posted a less-than-flattering photo of his wife (in her defense, she was filming, but also I look like this 99% of the time I leave the house).
A personal favorite of mine remains the time Lively wished her beloved husband a happy birthday. Except — oh look! — it's everyone's other favorite Ryan.
He got her back though, as you do.
Whatever is going on in their marriage is their business, of course — except for the fun tidbits they share with us. But come on, would two lovebirds who obviously have a lot of laughs together really go and break our hearts by breaking up? I mean, what do people who are this good-looking even have to fight about?