Of Course Ryan Reynolds Made His First Time Voting In America Hilarious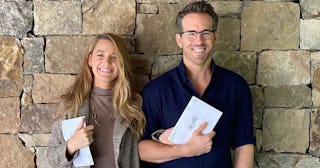 Ryan Reynolds/Instagram
Reynolds and Lively had one important message: Vote early
Ryan Reynolds is known for his quick wit and sarcastic take on most things. The Canadian-born actor's first time voting was no exception, comparing the experience with his wife Blake Lively to, um, something that sounds very similar in terms of the emotional connection.
The Dead Pool actor took to social media to share with the world his first time — voting, that is.
"This is my first time voting in America. I'd like to thank my wife Blake for making my first time so gentle and loving. It was super scary at first, then exciting and now I'm a little tired. But proud," Reynolds wrote on Instagram, using the hashtag, "#VoteEarly." Reynolds became a citizen more than two years ago but this was the first presidential election he's been a part of.
Not to be outdone by her husband, Lively posted her own version (complete with drawn on heels) giving a different version of events but the same important message — Vote early. "It was Ryan's first time. He was understandably scared," the mom-of-three wrote. "It all happened so fast. Like, REALLY fast. He wept. I pretended to weep. Then he called all his friend. #voteearly."
You might think she made a spelling error using "friend" but if you follow the pair on social media you know they live for trolling each other.
Lively joked in her Instagram stories about the drawn on shoes in the photo she posted. "Can you tell I was so happy to get outta a onesie and vote. Sure it was an absentee drop off ballot with a mask covering my look. But dammit I exercised my right to vote. And to not wear shoes that ruined my outfit," she wrote.
Both tagged Michelle Obama's When We All Vote initiative. According to the site, Obama formed the "non-profit, nonpartisan organization" to "increase participation in every election and close the race and age voting gap by changing the culture around voting, harnessing grassroots energy, and through strategic partnerships to reach every American."
Reynolds has been encouraging all Americans to register to vote on social media. Last month, the actor shared a selfie video on Instagram in honor of National Voter Registration Day. "It's National Voter Registration Day, which is a huge day. For me, it's like Christmas Day," he said in part in the video. "The Christmas Day of voting except what's under the tree is the rest of our lives. So, no pressure," he joked.
Reynolds and Lively keep a relatively low profile when it comes to their personal lives on social media. The pair welcomed their third daughter, Betty, last fall.
Early voting has begun in many states, along with mail-in voting by absentee ballot. To find out more about where you can vote early, check out vote.org.