Popular Toy Review YouTubers Accused Of Lying To Preschool Audience To Make Money
by Madison Vanderberg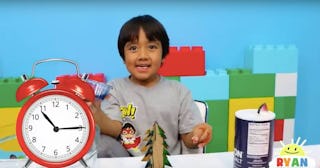 YouTube
Prolific kid-focused YouTube channel Ryan ToysReview is in hot water with Advocacy group Truth in Advertising for essentially sharing non-stop advertisements
YouTubers and Influencer culture is the wild west, and when literal children are creating content for other children, it is incredibly difficult to monitor said content, especially when it comes to ethical advertising. One prolific YouTuber, Ryan ToysReview, is under fire with the Federal Trade Commission for essentially pumping out a constant stream of advertising to preschool-age children who can't differentiate between organic content and a paid advertisement.
Ryan Kaji of Ryan ToysReview is a seven-year-old kid and his entire channel is focused on toys. The channel started with Ryan sharing his favorite toys, but now that he and his family have turned his passion project into a multi-million dollar operation, it's incredibly unclear which toys Ryan actually likes or which ones he's being paid to "like."
Advocacy group Truth in Advertising (TINA) filed a complaint with the Federal Trade Commission alleging that the entire channel is basically one giant ad and TINA found that 92 percent of Ryan's videos published this year contained at least one paid product recommendation or advertisements for TV shows or his sister's YouTube channel.
Unlike traditional children's television which has designated commercial breaks, most YouTube content features native advertising, which means that the ad is passed off as an honest testimonial and then usually the words "this is a paid ad" will flash on the screen. TINA states that no preschooler will understand what "this is an ad" means or listen for any sort of audio clue that this particular video is a paid advertisement. In other words, Ryan's fans can't tell the difference between advertising and organic content.
Case in point: The following video is an ad for Target, which is only mentioned by Ryan's mom and on the screen briefly at the end of the video.
"Organic content, sponsored content — it's really all the same to a preschooler," Bonnie Patten, executive director of TINA, told Today. "They just don't have the intellectual capacity to distinguish when they're being pitched to and when there's a child playing with a toy because he likes that toy."
Ryan's dad released a statement (via Today) that the family "strictly follows all platforms' terms of service and all existing laws and regulations, including advertising disclosure requirements." However, YouTube's terms of service weren't created with such young audience members in mind, so a simple #ad might not be enough to comply with the FTC's guidelines when it comes to advertising to preschoolers.
If TINA gets its way, they want all ads on Ryan's channel to be disclosed "clearly and conspicuously," though if more than 90% of Ryan ToysReview is advertising, the family may push back at being forced to essentially admit that literally everything they post is sponsored content.
This article was originally published on