Sallie Mae Treats Execs To Hawaiian Retreat While Borrowers Drown In $1.6 Trillion Debt
by Julie Scagell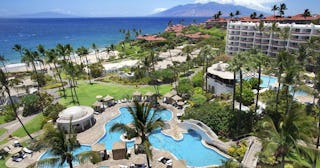 Fairmont Kea Lani
More than 100 Sallie Mae salespeople are celebrating in Hawaii for 5 days for free
While millions of Americans struggle monthly with how to pay off their student loan debt, one of the biggest banks to offer private student loans, Sallie Mae, was celebrating a record-setting year, flying many of their top performers to Hawaii to congratulate them for selling so many student loans.
One in five Americans are currently paying off student debt for a combined total of $1.6 trillion. The average student loan debt per graduating student in 2018 was $29,800, according to Student Loan Hero. As millions grapple with the often financially-crushing debt situation, Sallie Mae executives and sales team members enjoyed a five-day all-expense-paid trip to the Fairmont resort on Wailea beach, in Maui.
Sallie Mae brought more than 100 of its employees to the island to celebrate a record year — $5 billion in student loans to 374,000 borrowers, NBC News reported.
"We said, 'Hey, look, Maui is a pretty nice spot.' And so if you wanted to stay a few days or want to bring family, that's up to you," Ray Quinlan, CEO of Sallie Mae, said. "This is a sales get-together for all of our salespeople," he continued, though said it was not an incentive trip.
People were understandably upset that student loan debt would ever be a reason to celebrate:
One reason for the massive debt? While wages have increased by 67 percent since 1970, college tuition has increased at an even faster rate, almost doubling since 1980. Add this to the recession fallout, high cost of living, and other expenses, and it's easy to understand why millennials are sometimes opting to forego big milestones like purchasing their first homes or getting married until much later in life.
"So we've had good years, we've had bad years," Quinlan said, indicating Sallie Mae has been going on these trips since they started in 1970. It has always been a "recognition of the hard work" of the sales team, he added.
In 2014, Sallie Mae split into two separate companies: Sallie Mae and Navient. Sallie Mae remained a consumer banker and lender for private student loans. Navient is a student loan servicer.
While they celebrate a "job well done," it should be noted that student debt impacts people of color more than other groups. A recent Wall Street Journal report found that "graduates of historically black colleges had 32 percent more debt than students at other colleges" and that most hadn't begun making payments several years after graduating, adding to the wealth gap in this country.
The student loan crisis is a big agenda item for politicians, many using it as a platform for the upcoming 2020 election, including Bernie Sanders. Recent research says forgiving student loan debt would raise Gross Domestic Product, adding more than one million jobs to the U.S. economy.
This article was originally published on