Sally Field On Raising Gay Kids: 'Don't Put Your Fears On Your Children'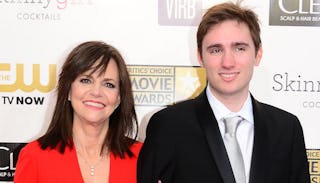 Sally Field has heartfelt advice for parents of gay youth
Sally field is one of America's most beloved actresses, but it turns out she's also a pretty amazing mom. The 69-year-old Oscar winner recently opened up about raising her openly gay son, Sam Greisman, and she gave some genuinely heartfelt advice to other parents in her shoes.
In a SiriusXM radio interview with Jess Cagle, Field revealed that her son struggled with his sexuality, and she tried her best to support him in whatever way he needed. "Sexuality is a human, glorious part of existence," she told Cagle. "In Sam's case, certainly, nature told him what to be. It wasn't something he looked to be, and he found it difficult to grapple with. I welcomed him to welcome himself, and find that part of his life."
Field also said she's "horrified" by families who don't accept their kids' sexuality and wants parents of LGBT youth to know that standing by their kids is the most important thing they can do. "Some people actually shut their children out of the house when they're young," she said. "They're teenagers — they're having a hard enough time trying to… own any part of sexuality. I'm still trying to figure it out!"
When asked what advice she'd give to other parents, Field said simply, "Don't be frightened, and don't put your own prejudices or fears about sexuality on your children… It's not against nature if nature has actually done this. Sam was always Sam, this wonderful human that he is, from the time he was born."
Field has long been a vocal ally of the LGBT community. In 2012, she won the Human Rights Campaign's Ally for Equality Award and said in her acceptance speech that it's been "one of the great privileges" of her life to raise her son. She also wrote an open letter in 2014 condemning laws that allow people to discriminate against someone on the basis of their sexuality.
Field's advice to other parents is not only heartfelt, but also encouraging. Despite the legalization of same-sex marriage and the many strides the gay community has made towards equality, there are still far too many people in the world who condemn, hate, and discriminate against openly gay and lesbian people.
When loving, strong advocates like Sally Field speak out, it gives parents a model for how to handle these issues in their own lives, and it shows the world that treating gay and lesbian youth with anything less than love and support is totally unacceptable. If we want change, we have to speak out, and Sally Field's bold and honest words are truly an inspiration.
This article was originally published on