Sally Field Tried To Set Her Son Up With Adam Rippon And The Internet Can't Handle It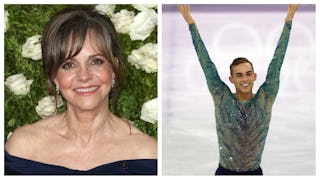 Image via Amin Mohammad Jamali / Jim Spellman / Getty
Sally Field, matchmaking mom extraordinaire
Sally Field pretty much wins it all. She has been in all the best movies (hi, Mrs. Doubtfire), is a fierce advocate for women's health rights, and just seems like a generally delightful person to be around. Oh, and she also has the least amount of chill when it comes to playing matchmaker for her son — so 10,000 more points for that. Don't worry, he'll thank her later.
Field's matchmaking skills kicked in hardcore when her 30-year-old son, Sam Griesman, declared that he had a crush on figure skater Adam Rippon, who made history as the first openly gay athlete to compete in the Winter Olympics. Griesman posted a screenshot of his text exchange with his mom — sans Rippon's name — that featured some pretty solid dating advice. "Sam…he's insanely pretty," Field wrote. "Find a way…"
Okay, so that's all well and good. Then, Field decided to take it up a notch. As in, she took to Twitter and TAGGED Rippon in the exchange. If you are currently cringing so hard at the idea of your own mom diving into your (potentially already fragile) dating life — you're not alone. On the other hand, you go Sally Field for getting shit done.
Field's son responded with a simple "yikes."
Meanwhile, the Twitterverse was loving Field's meddling. One mom even jumped in to try to do some matchmaking of her own.
https://twitter.com/jetpack/status/964918638212993025
No word yet from Rippon on how he feels about his potential new boyfriend — but you just know that Field is very pleased with herself right now (and Greisman is huddled under the covers somewhere).
Matchmaking aside, Field has been a longtime advocate for LGBTQ rights — and a outspoken supporter of her son's right to live his life like everyone else. The actress penned an open letter back in 2014, fighting back against "religious liberty" bills, which would allow people to deny goods and services to LGBTQ individuals because of religious reasons.
"Sam is my youngest son, by 18 years, and he's gay. To that, I say: So what?" Field wrote. "…Why would anyone want to prevent my son—or anyone's son or daughter—from having basic legal safeguards like family medical leave, Social Security survivors benefits, or health insurance? It doesn't make any sense—but it won't change until people speak out."
You GO Sally Field for being a fierce advocate — and the least subtle mom matchmaker out there.