Salma Hayek: 'Harvey Weinstein Is My Monster Too'
by Valerie Williams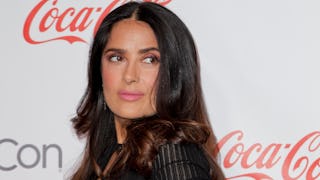 Image via Tibrina Hobson/Getty Images
Hayek adds her voice to the "me too" movement by telling her Weinstein story
In a recent essay for the New York Times, Salma Hayek adds her name to the ever-growing list of women accusing disgraced producer Harvey Weinstein of sexual assault.
Hayek's explosive and heartbreaking op-ed chronicles how absolutely impossible Weinstein allegedly made the production of Frida, the 2002 film that Hayek produced and starred in for Weinstein's former company, Miramax films— even though it ended up winning him two Academy Awards. He attempted to close doors at every opportunity – and Hayek endured.
When Weinstein said yes to his production company creating the film, Hayek writes, "Little did I know it would become my turn to say no."
"No to opening the door to him at all hours of the night, hotel after hotel, location after location, where he would show up unexpectedly, including one location where I was doing a movie he wasn't even involved with.
No to me taking a shower with him.
No to letting him watch me take a shower.
No to letting him give me a massage.
No to letting a naked friend of his give me a massage.
No to letting him give me oral sex.
No to my getting naked with another woman.
No, no, no, no, no …
And with every refusal came Harvey's Machiavellian rage."
Hayek says the fallen mogul even threatened her life once in a fit of rage. "The range of his persuasion tactics went from sweet-talking me to that one time when, in an attack of fury, he said the terrifying words, 'I will kill you, don't think I can't.'"
She writes, "I don't think he hated anything more than the word 'no.'"
Aside from his alleged continual unwanted sexual advances and blatant menacing and harassment, Weinstein also threatened to take away Hayek's role in the film as well as the script and to shut down production if Hayek refused to do a nude scene with co-star Ashley Judd. After finally agreeing to it, Hayek says she had a nervous breakdown during the filming of the scene. That incident was what kept Hayek from the film after finishing production.
Even though it won Oscars, she was never offered another starring role in a Miramax film for the rest of her contract with the company.
The Twitter reaction from celebrities came quickly — and the support for Hayek is vast.
Hayek closed out her essay with some very powerful words.
"I am grateful for everyone who is listening to our experiences. I hope that adding my voice to the chorus of those who are finally speaking out will shed light on why it is so difficult, and why so many of us have waited so long. Men sexually harassed because they could. Women are talking today because, in this new era, we finally can."