Amazon Echo Users Can Soon Replace Alexa's Voice With Samuel L. Jackson's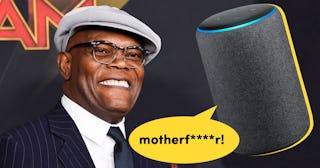 Scary Mommy, Amazon and Frazer Harrison/Getty
Samuel L. Jackson is the first celebrity voice coming to Amazon Echo devices
If, for some reason, instead of your Echo device's soothing, kind, womanly Alexa voice, you'd rather it shouted at you in the dulcet tones of Samuel L. Jackson (obscenities optional), well, that's a thing you'll be able to do soon. What a time to be alive.
Using neural text-to-speech technology that allows it to mimic the voices of celebrities, Amazon is rolling out upgrades that you can purchase for 99 cents that will cause your Echo devices to speak to you as if they're your new, famous best friends. Jackson will be the first voice available.
According to Amazon's announcement, Jackson "can tell you jokes, let you know if it's raining, set timers and alarms, play music and more — all with a bit of his own personality." And if you, like the rest of us, are very aware of what "a bit of his own personality" means and you have children in the house, don't worry — Jackson's voice upgrade will be available in both explicit and non-explicit versions. You can toggle between them without having to purchase two upgrades, don't worry.
You can also "get to know him a little better by asking about his interests and career," which is giving me some real Black Mirror Ashley O. vibes, personally, but hey, to each their own.
If Jackson isn't really your speed, don't worry — more 99-cent voice upgrades are coming soon. By next year, you should be able to download the voices of celebrities like Harrison Ford, Cardi B, and Anthony Hopkins so you can direct Han Solo or a Grammy-winner to order you more dishwasher pods and remind you to water the plants. Because for some reason that's a thing people want to do. It's all part of Amazon's new push to partner with A-listers as part of its marketing efforts for Echo devices as competition ramps up in the smart speaker business.
The announcement came alongside some other big news about Echo devices, including upgrades to existing devices like the Dot, and new devices, like a video-enabled clock face device that's designed for bedside tables. Perfect for when a normal alarm clock won't do, but you'd rather have Samuel L. Jackson's screaming to be the first thing you hear in the morning.
According to Amazon's blog, the celebrity voices won't have the full functionality that Alexa has, but if you ask your celebrity to do something it can't, Alexa will step in and take over. What's still unclear, though, is whether your kids will be able to bark orders at Samuel L. Jackson without saying please, like Alexa requires them to do. For some reason, we think Sam might be more lax on this.