What Is The Sandwich Generation? Listen Up 'Cause You're Probably Part Of It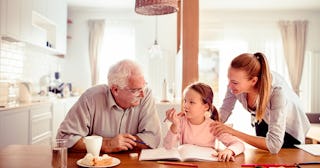 vorDa/Getty Images
Parents nurture, love, and protect their children. We relish watching our kids grow up and become their own people — not to mention the opportunity to do our own thing. However, you might notice the independence you once had from your parents begins to shorten. They may need physical, emotional, and financial support from you. A larger-than-life mom who once drove your kids around to get ice cream may now need your help getting to appointments or cancer treatment. You're squeezed between caring for your children and caring for your parents. Welcome to the sandwich generation.
From helping the kids get dressed and fed to assisting dad with finances and medical care, multigenerational caregiving can be a lot. It often feels remarkably satisfying and equally overwhelming at once. Picture it: Your situation might resemble a harmonious BLT, a messy sloppy joe, a bursting-at-the-seams cheesesteak, or a tidy cucumber sandwich (if only).
What is the Sandwich Generation?
Social worker Dorothy Miller coined the term "sandwich generation" in 1981. She used it to describe women specifically in their 30s and 40s "sandwiched" as the primary caregiver between young children and aging parents. Eldercare journalist Carol Abaya expanded the sandwich generation definition. Throughout the '90s, her syndicated column "The Sandwich Generation" appeared in newspapers across the country. Abaya defined three different types of sandwich scenarios:
Traditional: Those sandwiched between their own children and aging parents who need care and/or help
Club Sandwich: Those in their 30s or 40s with young children, aging parents, and grandparents; or those in their 50s or 60s, sandwiched between aging parents, adult children, and grandchildren
Open-Faced: Anyone else involved in older adult care
However, with families delaying child-bearing and seniors living a lot longer — baby boomers turn 70 at the rate of 10,000 a day — the 30s or 40s age range has greatly expanded in modern times. Merriam-Webster and Oxford English added the sandwich generation definition to their dictionaries in 2006 with no age restraints.
Sandwich Generation Stats
The Bureau of Labor Statistics reports that more than one in 10 (12 percent) American parents who have a child under 18 living at home also care for an adult.
According to a 2018 Pew Research Center study, the following figures represent multigenerational caregivers with a child younger than 18 at home:
Ages 18 to 29: 15 percent
Ages 30 to 44: 53 percent
Ages 45 to 59: 29 percent
Multiple 2020 surveys conducted by New York Life indicate that the COVID-19 pandemic has shifted the sandwich generation demographics to be younger (38 percent millennial, ages 25 to 39), more female (64 percent), and more diverse.
Those same New York Life surveys showed that the cost of older adult care is about $1000 per month at home, with an increased cost for assisted living care.
Key Concerns
New and experienced members of the sandwich generation constantly face tough questions.
How do I split my time and money between my children and my older adult family member(s)?
How do I make time for myself — and my marriage?
Is it OK to ask for help?
Am I depressed? And if so, how do I deal with my depression and sense of loneliness?
How can I take a break when so many people depend on me?
How flexible is my job, and how much is too much when asking my job for support?
Advice for the Sandwich Generation
There is no one way to be a caregiver. Every relationship is different. You don't have to do everything yourself. It is OK to ask for help from friends, family members, and even your children when appropriate.
Talk to your children. Kids are keen observers, but they are still figuring out the world around them. Hold family meetings. Be honest with them about why they may not have your full attention. Use this as an opportunity to introduce lessons about compassion (and compassion fatigue), empathy, and responsibility.
It's not only tough on you. No parent wants to lose control of their own life. The role reversal can be a total mindf*ck for everyone involved. A key objective is to empower our older relatives. Try to be a source of joy rather than a reminder of what they can no longer accomplish.
Ask for support. Don't be afraid to include siblings or other family members in your caretaking situation. Whether that be stopping by on a lunch break to make Mom a meal or financially. Have everyone send a certain amount of funds, which will go toward supporting your aging parents.
Set up a durable power of attorney. This document will help protect assets in times of crisis.
Be kind to yourself. Try not to feel guilty for taking much-needed me time. Remember, you can't pour from an empty cup! It's important to exercise and find ways to destress and relax. Take care of your body by eating right and staying hydrated. Being part of the sandwich generation is stressful enough, so avoid internalizing the anxiety of others. This will help you focus on what's important and stay positive. You'll be an even better parent and caregiver by caring for yourself.
Maintain a sense of humor. You might think, "Surely you can't be serious." I am serious. And don't call me Shirley.
Save time communicating with other family members about your loved ones. Instead of fielding a bunch of calls updating each relative on your loved one's condition, put it in a group text. When you're a caregiver, you may spend a lot of time keeping the rest of your family members abreast. However, repeating the same story over and over can eat up a lot of time and be emotionally taxing. So, put an update in a space everyone can see it, like in a group text thread, detailed email, or Google doc.
What is a Boomerang Child?
Boomerang kids is a term used to describe adult children who return home to live with their parents due to financial struggles after living on their own. In fact, 52 percent of millennials live at home with their parents, according to a recent Pew Research Center report. Children may return home following a job loss, low savings, high debt, unemployment, and of course, the COVID-19 pandemic.
This article was originally published on