Santa Fe Student Christian 'Riley' Garcia Died Saving His Classmates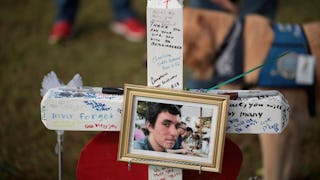 Image via Scott Olson/Getty Images
Christian "Riley" Garcia is the latest student to show unbelievable heroism and sacrifice during the country's school shooting epidemic
As the country reels from yet another deadly school shooting — despite the efforts of student protestors to tighten gun laws and end the violence — stories of heroism are emerging from last week's massacre at Santa Fe High School.
Among the ten people killed during the May 18th shooting was 15-year-old Christian "Riley" Garcia, who survivors say saved lives in the moments before he was gunned down by fellow student, 17-year-old Dimitrios Pagourtzis.
The Associated Press reports that the student was in art class when the shooting happened — and barricaded a closet door with his body as the shooter approached. He was reportedly shot through the door while protecting his teacher and classmates.
Garcia described himself as a history junkie. He wanted to join the U.S. Army after graduation. He also loved to water ski, play football, fish, and do anything outdoors.
A 14-year-old freshman, Student Jai Gillard, told the AP that Garcia sat next to her in art class and was always happy and sweet. He had even asked her on a date recently.
Garcia and his family attended nearby Crosby Church, and was baptized as a baby by Pastor Keenan Smith. Smith shared the story of Garcia, along with his feelings about the shooting, with CNN.
"That's not what's supposed to happen to a 15-year-old's life that he has to make those decisions," Smith said. "But he made them without even thinking about it, because it was his heart. This is who he was as an individual."
Smith said he hoped that Garcia's bravery would help comfort his family, at least in a way.
"This doesn't ease the pain any. It doesn't stop the void that will forever be there, but it does bring a measure of peace," he said.
The church held a memorial service Monday night for the teen.
As those in Houston and across the country mourned the eight murdered students, two murdered teachers, and 13 injured, some reflected on the senselessness of these continued school shootings — and how they force young teens like Garcia to make heroic but life-ending decisions when they should simply be making art in art class.
According to local police, the shooter entered the school at 7:40 a.m. and targeted two art classrooms. He fired his shotgun into an art supply closet door with student inside, left briefly, and then returned to continue shooting. He then engaged in a shootout with police and surrendered after being wounded.
This article was originally published on