Spanx CEO Gifts Employees $10K And Two 1st Class Plane Tickets
by Julie Scagell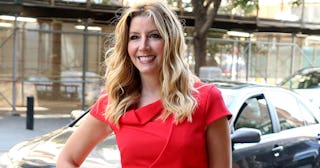 Broadimage/Shutterstock
The CEO inked a deal with a private equity firm who valued her business at $1.2 billion
Spanx CEO Sara Blakely and her employees are having a big week. She recently inked a deal with asset management private equity firm, Blackstone, who bought a majority stake in the company loved by millions of people everywhere. The company valued the shapewear brand at $1.2 billion, and she's using part of her money to reward those that were instrumental in her success.
Blakely announced her intention in an Instagram video, sharing that all of her employees will be receiving $10,000 and two first-class plane tickets so they can travel anywhere in the world.
"I really want every employee to celebrate this moment in their own way and create a memory that will last them a lifetime," she wrote in the caption, adding, "Cheers to 21 years of magic and many more to come …. 🥂" In the video, an emotional Blakely talked about starting the company and how she'd believed one day it would be worth $20 million, and "Everybody laughed at me."
She continued: "And so, to stand here today and think about what we've been able to create and what we've been able to do by being authentic and kind and [delivering] amazing products to women. To use very feminine principles in a very masculine space, which is business, leading with intuition and vulnerability…I think it's a really big moment in time for women."
Blakely went on to recognize all the other women who helped get her to where she needed to be, including her mother and her grandmothers. Then, more happy tears flowed as the mom-of-four announced the bonuses. "And then the tears really started to flow when I surprised everybody with 2 first class @delta plane tickets to anywhere in the world and $10,000 cash to spend on the trip," she wrote. Just try to watch the video and not cry yourself.
This year has been hard for everyone, particularly women. In August and September of this year alone, one million people left the workforce — 75% of those being women. Overall, more than 1.8 million women have left the workforce due to the pandemic, as caregiving and childcare usually fall on their shoulders. To have a female CEO recognize all the hard work of her employees — especially during this past year — is truly incredible.
"My life motto is the more you experience in life, the more you have to offer others," the entrepreneur wrote in the video clip. The video panned to the crowd where people cheered and cried, stunned at the generous gesture.
Last week, she acknowledged the sale, saying in part, "With all my heart I love this brand. With all my heart I will continue to love this brand. I will remain a significant shareholder and continue to help the business fulfill its greatest potential, as well as continue to fulfill my greatest passion – elevating women. I'm as excited today for the future of Spanx as I was when I started it 21 years ago."
As people talked about where they would go, you could see an ecstatic Blakely taking it all in. This is how you lead an organization.