Sarah Jessica Parker Shares Rare Pics Of Her Twins As They Finish 6th Grade
by Valerie Williams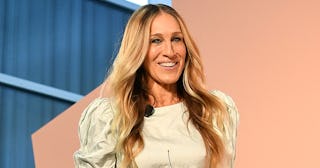 Dia Dipasupil/Getty
SATC star Sarah Jessica Parker shares rare photos of her twin daughters and a sweet message to teachers as the school year wraps up
Actress Sarah Jessica Parker isn't one of those celebs that keeps fans super updated on her kids' private lives. It's a choice for all famous folks how much they want to share about their families and it certainly runs the gamut from frequent posting to once in awhile to almost never. SJP falls in that middle category and even so, she doesn't make a habit of showing her kids' faces. This time, Parker, who has three children with husband Matthew Broderick, is sharing rare photos of her daughters as they finish sixth grade along with a heartfelt message to teachers after what can only be described as the weirdest school year ever.
"So long to 6th grade. Hello to our rising 7th graders," she writes of twins Tabitha and Marion's last day of school.
The photos of her daughters are taken from behind so their faces aren't visible. Parker's message continues with a shout-out to educators. "Thank you dear teachers. For your kindness, good humor, your shared love of your work and all the whole family learned about Venice, Baghdad, Spain and even our own global city New York!" she writes.
This has been a school year like no other and whether you're famous or not, teachers have likely emerged as personal heroes for your family. Navigating school amid the COVID-19 pandemic, either virtually or in-person, has been a brand-new experience and teachers took to it like fish to water, of course. Because they're amazing. Parker is any other mom who is feeling super grateful for the presence and hard work of teachers in this last year. To say they deserve a nice break this summer is a total understatement.
Parker wraps her note with a little nod to the impending freedom her newly-minted seventh graders are about to enjoy. "Sisters, take the battery out of your alarm clock! Happy summer!" she says.
Boy, do I feel that. After a year of shepherding my middle school kids through virtual instruction, we're all ready for the alarm clock to STFU for several weeks while we try to take a breath after such a totally abnormal school year. I keenly feel Parker on both her readiness for this to be done and her gratitude for the hard work of teachers as they navigated completely new terrain.
Last month, Parker posted a tribute to son James Wilkie as he finished high school. "With all our love to you and the class of 2021. At home and across the land," she wrote in part along with photos of James on his special day.
Hopefully, the entire family will enjoy a happy summer together before fall comes and everyone starts all over.