Sarah Jessica Parker Shares Pic From First Day Filming SATC Reboot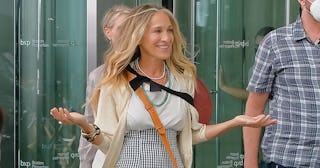 Raymond Hall/GC Images
Sex and the City reboot And Just Like That is now filming and Sarah Jessica Parker shared a photo that will make fans squeal with joy
I come to you on this Friday afternoon bearing news of great joy. The stars of the Sex and the City reboot And Just Like That are officially filming the much-anticipated new series. Wanna know how I know? Because Sarah Jessica Parker just shared an on-set snapshot of the three leading ladies sure to transport you right back to 2004 (minus Samantha. Dammit.)
That's right — Carrie Bradshaw herself (and HBO Max — it seems they coordinated this little reveal) made our weekends a little bit early today. Just… behold.
Have you ever seen Kristin Davis looking so… Charlotte? The classic outfit and brunette waves have her serving us Park Avenue vibes. Cynthia Nixon is at her Miranda Hobbes best, straight up killing it at the game in stunning white pants and bright blonde hair while Parker is on trend as usual in strappy heels and a high-waisted striped skirt. Oh how my college-age self missed seeing all this glorious fashion.
Happily, it seems SJP and HBO Max are only too delighted to let us in on the behind-the-scenes happenings as the reboot of the beloved series begins to take shape.
Parker is literally narrating her day of shooting via Instagram and fans won't be able to resist refreshing her feed for new updates.
She's even letting us in on what's in the tote bag she brings to the set.
A few weeks ago, the star shared a casual snapshot of herself with Nixon and Davis after reading through the first episodes. They look fabulous, of course.
Nearly all of the series' original stars are coming back for the reboot (again — except Samantha) which is just the shot of nostalgia so many of us need after the last year of pandemic-related awfulness. Remember back in the early 2000s when we wouldn't dare miss a new episode of this iconic show? Well, we can do it again only this time, it will have to be after putting the kids to bed or applying under-eye serum.
The series premieres on HBO Max sometime later this year according to Parade and honestly, it can't come soon enough.