Sarah Levy Loses It Over 'Schitt's Creek' Sweeping The Emmys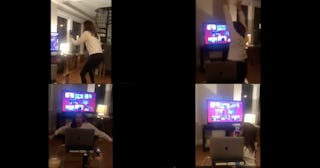 Twitter/Dan Levy
Sarah Levy, aka Twyla Sands from Schitt's Creek, watched her family sweep the 2020 Emmy Awards and her reaction video is priceless
On Sunday night, the Schitt's Creek cast swept the entire comedy category at the 2020 Emmy awards. From Best Leading Actor to Best Directing, Dan Levy and his dad Eugene Levy were standing up to collect their awards every few minutes. Though the Emmy's this year were filmed remotely and celebs could lounge at home in their PJ's, the Schitt's Creek crew met up in a Canadian banquet hall, where they all sat six feet apart from one another, and experienced their Emmy wins remotely together. However, there was one member of the Schitt's Creek fam who didn't make it to the reunion and that was Dan's sister Sarah Levy aka your favorite waitress Twyla Sands. Sarah watched the broadcast at home while her family swept the entire awards show and let's just say that the lesser-known Levy sibling deserves an Emmy for best reaction while watching the Emmy's.
It's still unclear why Sarah wasn't at the Schitt's Creek Emmy party — I mean, she's a Levy and she's on the show — but if she was celebrating in person with her brother and dad she wouldn't have been at home, making this wonderful reaction video. Sarah's significant other filmed her reaction each time her friends, dad, or brother racked up another award and it is truly the purest thing on the internet.
"Last night happened so that this montage of my sister's reactions could exist. Love you [Sarah Levy]," Dan wrote on Twitter. "Wish you could have been there with us…but this is almost better?"
The "Sarah Levy Schitt's Creek Emmy Win" montage is honestly all of us as we sat at home on Sunday night and squealed each time the little Canadian-show-that-could won another award. "Again? Schitt's Creek just won, again!?"
After the broadcast, Sarah shared a family portrait from the Emmy's which featured her brother, mom, dad and Sarah, on FaceTime. Uggh, pandemic problems. "This is as good as it's going to get for a family photo on a spectacular, record-breaking night," Sarah wrote on Instagram.
https://www.instagram.com/p/CFZnLKmgSTN/
I'm still scratching my head wondering why Sarah couldn't just go to Emmy's meet-up, but Sarah Levy screaming at her TV about Schitt's Creek is a gift I didn't realize I needed this week, so thank you Sarah.
Schitt's Creek capped its six-season run earlier this year, but you can still relive the magic of the heartfelt Canadian series as the final season arrives on Netflix on October 7.