Anchor Who Miscarried During Broadcast Reminds Women How Strong They Are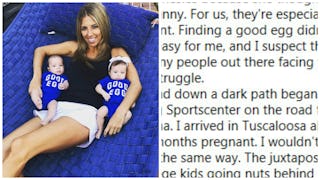 Image via Instagram/sarawalsh10
Anchor shares story of loss and infertility to remind women they are not alone
SportsCenter anchor Sara Walsh shared an adorable picture of her new twins on Instagram from Mother's Day. But it was her heartbreaking story behind that picture that has thousands of women sharing similar stories of their struggle to start a family.
"My mother bought them these onesies because she thought they were funny. For us, they're especially poignant. Finding a good egg didn't come easy for me, and I suspect there are many people out there facing the same struggle," Walsh wrote.
Walsh suffered a devastating miscarriage years earlier while on-air hosting a SportsCenter segment. "I arrived in Tuscaloosa almost three months pregnant. I wouldn't return the same way. The juxtaposition of college kids going nuts behind our set, while I was losing a baby on it, was surreal. I was scared, nobody knew I was pregnant, so I did the show while having a miscarriage. On television," Walsh explained.
Unfortunately Walsh's story, while shocking, is not unique. According to the March of Dimes, as many as 50 percent of all pregnancies may end in miscarriage — most often before a woman even misses her period or even knows she is pregnant. About 15-25% of all recognized pregnancies will end in a miscarriage. While everyone who experiences this kind of loss isn't always able to be as open as Walsh, she recognizes just how hard it can be to celebrate or even enjoy future pregnancies for those who have experienced infertility.
"It would get worse. Two more failed pregnancies (…) We then went down the IVF road of endless shots and procedures. After several rounds, we could only salvage two eggs. I refused to even use them for a long time, because I couldn't bear the idea of all hope being gone," Walsh wrote.
Once she did become pregnant, Walsh admitted, "It was exciting news, but we knew better than to celebrate (…) There would be no baby announcement, no shower, we didn't buy a single thing in preparation for the babies, because I wasn't sure they'd show up." She said it was difficult to even let those close to them know the good news. "We told very few people we were pregnant, and almost no one there were two. For those that thought I was weirdly quiet about my pregnancy, now you know why."
Walsh's message to her followers is one of hope but also acknowledges the pain and struggle so many women face when dealing with infertility and pregnancy loss. It is also a powerful reminder to all those women that they are not alone.
Walsh finally got the chance to celebrate Mother's Day after so many years of disappointment and concluded, "I got to hang with these two good eggs. My ONLY good eggs. And I know how lucky I really am."