TV Host Goes Makeup-Free In Post-Baby Photos And The Internet Loves It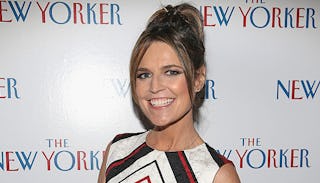 Image via Tasos Katopodis/Getty Images
Savannah Guthrie didn't bother getting dolled up for first post-birth pics
TODAY Show host Savannah Guthrie gave birth to her second child this week and released photos of her glowing self cradling the new addition. But instead of the typical celebrity post-birth pics where it's obvious a beauty team swept through before a single shutterbug was allowed in, Guthrie went all natural.
And she's getting tons of praise for it.
According to TODAY, Guthrie and husband Michael Feldman welcomed Charles Max Feldman (aka, Charley) on December 8th. The family quickly shared photos of mom, dad and baby much to the delight of fans.
The second-time mom couldn't be more glowing if she were the actual sun, and it's all totally without the aid of makeup and styled hair. Guthrie famously went bare-faced for the birth of her first child as well, pictured with daughter Vale saying, "The only makeup I'm wearing is joy!"
Fans on her Facebook page were full of accolades for Guthrie's look saying how beautiful and happy she looks — and she does. But it's also important to note that had she chosen to get made up for those first pics, that would've been great too. The thing to praise here is the fact that Guthrie did what felt right to her without caving to any pressure to look "perfect" right after giving birth.
For my first birth, I was knocked out after my daughter was born via c-section and had a secondary surgery performed for a condition unrelated to my pregnancy. When I woke and met her for the first time, cameras flashing from my excited family, I was too bleary-eyed and exhausted to care that I looked like a zombie. Seeing those first photos afterward, I was thrilled to note my happiness with my new baby girl, but also, sad that I looked not at all like my usual put-together self.
When I had my second child in a complication-free, planned c-section, I did it my way. And my way happened to include a bag of makeup. Sitting in my hospital bed waiting for visitors to arrive, I chatted with my mother and put on a little foundation and lip gloss. Because I wanted to. And that's all that mattered.
We're thrilled to see Savannah embrace her natural post-baby glow, and if that's what made her feel good, she did it right. Because no mom should feel pressure either way.