'Saved By The Bell' Star Dustin Diamond Dead At 44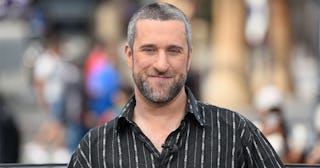 Noel Vasquez/Getty
Dustin Diamond has died only three weeks after a "brutal" cancer diagnosis
Actor Dustin Diamond, who played the character Screech on beloved 1980s and 90s sitcom Saved by the Bell, has died at only 44 years old. He was diagnosed with carcinoma just three weeks ago.
Diamond's agent, Roger Paul, confirmed the actor's death and shared details about his recent cancer diagnosis with Rolling Stone. "He was diagnosed with this brutal, relentless form of malignant cancer only three weeks ago," Paul said in a statement to the publication. "In that time, it managed to spread rapidly throughout his system; the only mercy it exhibited was its sharp and swift execution. Dustin did not suffer. He did not have to lie submerged in pain. For that, we are grateful."
"Dustin Diamond was a character in and of himself: an unpredictable spitfire who always left us shocked, but never left us bored," Paul's statement continued. "We please ask that you give room for privacy to our team and Mr. Diamond's family during this tragic time, as we grieve and remember the memories spent together. This loss is as much stinging as it is sudden."
Diamond played Screech through four different versions of the classic show, beginning in 1988 through 2000. He was one of the original cast of Good Morning, Miss Bliss and transitioned to the perhaps best-known incarnation of the series, Saved by the Bell in 1989. If you watched TV on Saturday mornings during those glorious years, you're well familiar with his always-adorkable character, who was best friends with main character Zack Morris, played by Mark-Paul Gosselaar, and lusted after Lisa Turtle, played by Lark Voorhies.
Though Diamond's adult years held a few salacious stories including 2015 prison time for his involvement in a bar fight, most of us Xennials will always fondly remember him for the enduring character he played on a TV series that defined our childhoods. He wasn't included in the show's recent reboot, but was interviewed by Mario Lopez (A.C. Slater on SBTB) in 2016 where Diamond admitted he hadn't seen most of his former costars since he was 16 years old and wished to apologize for any misunderstandings between them. "I want to put the tomfoolery and malarkey behind me… for that clean slate," Diamond said at the time. "Time for a change."