Saying "I Still Love You" When You'd Rather Trip Your Kid as She Stomps Out of the Room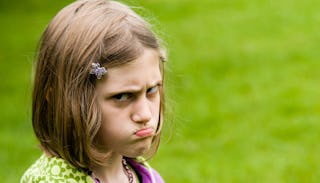 "You're the meanest Mommy everrrrrrrr! I don't love you! I don't even like you!" Ana Lu screeched, stomping on the floor, arms down by her side, hands balled into petite fists … wait for it… followed by the quintessential stomp out of the room. Into her room she goes, catapults herself onto her bed, yanks the comforter over her head and grunts octaves higher than necessary, assuring I get the memo she's pissed.
Note to self: Get this kid into acting classes. Her natural flair for drama is extraordinary. My friend recently recommended I get Ana Lu into drama classes, that perhaps she'll channel her inherent knack for drama in a theater, rather than our home.
I can only hope.
I follow Ana Lu into her room, kneel down next to her bed and gently lay my hand on her back. She twitches, pulls away and grunts overtly again.
"I still love you, Sweetie."
It's the first thing I say every time she says I'm mean or that she hates me. Don't get me wrong, it's not as if I'm overly joyful in the moment. Inside I'm fuming because I know that I bust my mommy-ass to raise her, so getting told I'm mean while setting a basic rule really pisses me off.
If I'm honest, there are plenty of times I've considered sticking out my foot to trip her when she stomps off all attitude-y to her room.
But regardless of my intermittent, unhealthy desire to trip my five-year-old when she's acting like a twit… I'm always mindful of saying, "I still love you."
I always want her to know – no, it's vital that she know – she can be real with me. That I can take it. I ask her if she wants me to stay. She murmurs, "Yes," in a tone of voice that communicates, "I need you, but I don't want you."
I sit on her bed, start to rub her back and feel her petite body relax underneath my loving touch. Most times, after I sit with her for a minute she regains confidence that my love is unconditional, and I'm cool with her spazzing out on me; she's ready to be alone. She softly whispers, "Space, please." She knows she needs alone time to wind down.
Thank God.
I desperately need it, too.
Related post: The Multiple Personalities of a Tween Girl
This article was originally published on