The Scary Mommy Gift Guide For Introverts (Or Anyone Who Is Done Peopling)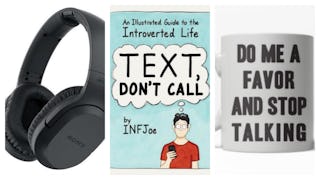 Jet
We all know that person who hates peopling. The one you invite to a night out with the girls who you know isn't going to show. She doesn't even have to lie and say she's sick because you're friends and you know how she rolls— by herself. And that's okay!
Introverts need friends, too. Even if they never want to see them and talk to them and would rather die than pick up a phone to call them. Being alone is alright, and you can give her a gift this Christmas that shows you really get her. Just remember to mail it and make sure she doesn't have to answer the door and sign for it.
A doormat that drops all pretenses and gets right to the point is truly priceless. Except this is not priceless because it has an actual price so you can buy it. When you think about it, that's kind of like it's already on sale, isn't it? What a steal!
Ask an introvert what the single greatest invention of the 21st century has been and they will undoubtedly tell you it's the privilege of never having to talk on the phone. This book also doubles as a shield from human contact when your introvert is in public spaces unwillingly. Bonus!
Is your introvert done with subtleties? Allow them to send the message loud and clear that they are not interested in hearing about Susan-from-the-office-down-the-hall's new dog or her cruise to Aruba with her new boyfriend she met on Christian Mingle. Susan starts her yammering and your friend can zip up their own personal cave.
Your introvert can walk around pointing at this shirt and avoiding eye contact.
Don't even bother with tiny, discreet ear buds. Give your favorite introvert these big-ass honking headphones so everyone on the subway knows she is listening to something that is not the voice of the person next to her.
For cuddling up for one of many blissful nights alone with the Netflix queue.
She can keep this mug at work specifically for interactions with Susan-from-the-office-down-the-hall.
If your friend has a question, give her the gift of asking a robot with artificial intelligence and bypassing yet another undesired interaction with a human.
Introverts fly on planes and ride on trains, and both are made worse by a chatty seat neighbor. If your friend can't see Chatty Cathy, it's less likely that she will have to acknowledge the existence of Chatty Cathy. Feigned sleep might even lead to actual sleep and a nap is pretty much on everyone's wish list this year.
Her cat understands your introvert better than you ever will. Encourage their bond so the cat doesn't try to eat her when she dies.
Those of us who love an introvert know their true value and never want them to change. No one gets that you need alone time like your introvert does. She encourages you to take mental health breaks and you can always count on her to suggest a good show to binge. And when she does venture out of her home to interact with you over coffee or a bottle of wine, you're always blown away by how fun and insightful she is. Cherish that kind of friendship. From afar.
This article was originally published on