The Scary Mommy Guide to Wine-ing
by Team Scary Mommy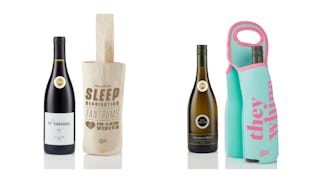 Don't know your chardonnay from your cabernet?
Although we have yet to turn down any offer of wine, we wouldn't call ourselves connoisseurs. In fact, from Boones Farm to boxed white zin to something mysteriously labeled "Table Wine," (is that a kind of grape?) we've definitely sipped it all without prejudice.
But, to celebrate Scary Mommy's partnership with Sherry-Lehman, New York City's go-to destination for fine wines and spirits, we've decided to class it up a bit and take a crash course in what makes wine so fine.
How do grapes turn into wine (and can I do it in my house?)
Sadly, stomping on a bunch of grapes on your kitchen floor will not turn them into a glass of cabernet, no matter how big your feet are. Wine is made from specific kinds of grapes, not the ones you pick up at Whole Foods. It's a complex operation that involves fermentation, extraction, and bacterial processes to soften the taste. The whole thing can take weeks or even decades, depending on the type of wine.
There are 9 different kinds of wine
Red, white, and rosé all day, amirite? If you thought that was the extent of the wine family tree, you'd be missing out on a lot of delicious cousins. There are actually nine different types of wine, which vary based on the kind of grape used, fermentation process, and amount of tannins included.
Sparkling Wine
Light-Bodied White Wine
Full-Bodied White Wine
Aromatic (sweet) White Wine
Rosé Wine
Light-Bodied Red Wine
Medium-Bodied Red Wine
Full-Bodied Red Wine
Dessert Wine
Better off red
Is there anything more romantic than the idea of sipping red wine on a balcony somewhere in France with your lovah? We don't think so. Red wine gets its color from the pulp of red or black grapes as the fermentation process must happen with the skin intact. The quality of the grapes affects the quality of the wine more than anything else, so keep your fingers crossed for a bon "terroir" (French for ideal growing conditions — weather, soil, etc.).
Ready for some red? The Scary Mommy Shop features "They're Finally In Bed" Red, a 2016 Cotes du Rhone, which is a medium-to-full-bodied red blend of 80% grenache, 10% mourvèdre and 10% syrah. It's ripe, mouthwatering and fresh.
Plus, every bottle comes with a fun tote that clearly speaks to its pairing abilities.
White is so all right
Contrary to what you might think, white wine is not exclusively made from green grapes. But, it's always fermented without the grape skins, which produces its yellow-ish color. Dry white wines are completely fermented, and sweeter wines result when the process is interrupted before all the sugar can be converted into alcohol.
One of our fave whites? Sauvignon blanc, which is a light easy-drinking dry white wine. It's so popular, it's also known as the "beer of wines." The "It's Gonna Be Alright" White featured on the Scary Mommy Shop displays classic sauvignon characters of gooseberry, passionfruit, figs and a touch of herbaceousness. And who couldn't use some more herbaceousness in their lives?
Hurray for rosé
Sipping rosé during the summer months makes us feel like a character on "Sex and the City" except we've got our feet in a kiddie pool and someone is dripping blue popsicle on our arms. Rosé wines get their pink color from controlled and temporary contact from the skins of red grapes.
Featured on the Scary Mommy Shop is "Oh, Hey, BAE" Rosé a Domaine de Triennes rosé that has a nose reminiscent of strawberries and white flowers. Red fruit and notes of citrus add to the aromatic complexity. Hopefully it pairs well with Pirate Booty, because that's what we usually wind up eating during cocktail hour.
Sparkling rosé — when you're feeling extra
The only thing that could make rosé even more lovely is feeling a tingle as you swallow it down your throat. Although it's commonly referred to as champagne, if it's not made from the Champagne region of France, it's just sparkling wine. It's made sparkling with carbon dioxide that either occurs naturally through fermentation or is injected later in the process.
The "Just Tryna Get Through The Day" Sparkling Rosé featured in the Scary Mommy Shop is a Napa sparkler that's made in the style of French Champagne, with a combination of chardonnay and pinot noir. Drink it in a champagne flute or hidden in a Scary Mommy mug, to keep it all to yourself.
Check out all the new wines on The Scary Mommy Shop. And, whatever your wine of choice, remember to drink responsively — you know, wait until your kids are really driving you crazy.
This article was originally published on