Scary Mommies Share Pics Of Their Halloween Babies!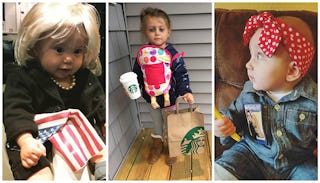 Okay, we admit that some of us moms with older kids just really needed someone to live vicariously through. So we asked Scary Mommies to share photos of their little ones all dressed up yesterday, and you did not disappoint.
The cute was almost too much. Those first years go by so fast, you can almost forget how fun it is to have a baby to dress up. Parents of babies, take full advantage of those first few Halloweens when you get all the say in the costume!
Omg. The stove as accessory.
We can do it!!
Dying.
"Play pen."
#ImWithHer
Little "Tin Man"
This little girl is using us all as inspiration.
Bob Ross!
Mother of Dragons!
Look at the homemade walker!
This knitted Snow White outfit is perfection.
No hassle. Adorable. Definitely Scary Mommy approved.
If you want to see the full list of costumes, you can visit the comment section here.
This article was originally published on