Scary Mommy Travels: London Edition
by Jill Smokler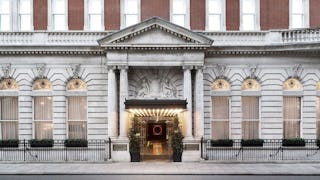 The London Edition
One of my favorite parts of having three kids is spending alone time with each of them.
OK fine, so I suppose I'd have one on one time with a single or two kids, but there's something magical about going from the chaos and insanity of three down to the peace and quiet of just one.
Last month, I had a whole week with Evan when my mom and I took him to London over spring break. Being a third child, Evan has always been pretty easy to please. As a toddler, he was once overjoyed when I bought him a new pair of pajamas, rather than receiving his brother's hand-me-downs. "They match!!!" he giddily exclaimed as my family gawked and judged my parenting skills.
So, I had high hopes for the trip, if for no reason other than the break from relentless sibling rivalry. In parenting, though, often the best of plans fall apart. I'm very happy to report this was not the case.
We all fell in love with London. We kept busy seeing Wicked and Lion King, ate way too many petit fours at two separate afternoon teas, and my mom and I even managed to get some shopping in. One complaining child is a cakewalk when you're used to a chorus of whines from three!
One of the highlights of our trip was our hotel, The London Edition. The building — five 1835 Georgian townhouses that were combined in 1908 – is a collaboration between Studio 54 co-founder Ian Schrager and Marriott. It's also absolute eye candy for design enthusiasts.
"Whoa," Evan said as we walked into the lobby. "This place is so cool." Being in the midst of a home renovation, I jotted down notes and took pictures for inspiration back at home. I mean, just look at this bar…
I may have taken two baths every day we stayed at The London Edition, but I'm not sure I'll ever see a bathroom this white again so I couldn't resist.
We were warmly greeted by the staff every time we came and went, and each night there was a little goodie in the room. It's always the little details that really get me, so I was in heaven.
A hotel stay can really make or break a trip, so a huge thank you to The London Edition for making this one spectacular!
We received a reduced hotel rate during our stay, but of course, all opinions are my own.
This article was originally published on