'Schitt's Creek' Town Bakery Says Annie Murphy's Review Helped Them Survive Pandemic
by Madison Vanderberg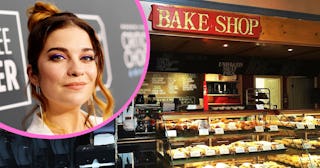 Anninas Bake Shop and Cafe/Instagram and Matt Winkelmeyer/Getty
Annie Murphy's favorite bakery in fake Schitt's Creek town stays afloat during pandemic thanks to her shoutout
Schitt's Creek was filmed in the real-life small town of Goodwood, Ontario in Uxbridge Township just north of Toronto. In this small town, many actual shops provided the facades for show locations like David's apothecary and Cafe Tropical. Although one bakery in the town didn't make it onscreen, the owner says he was able to survive financially during the pandemic because of the love the cafe got from one Schitt's Creek cast member.
Per Insider, Annina's Bakeshop & Cafe in Goodwood is a small "country shop with gourmet flavors" and has been run for the past 12 years by owner Marco Cassano. When Schitt's Creek moved into town, the show enlisted the bakery to cater food to set and it became a fan-favorite among the cast.
However, like most businesses, the pandemic meant they struggled to make sales and considering that Goodwood is a niche, small town made it even harder. That's when Annie Murphy went on Late Night With Seth Meyers and gave the bakery the ultimate shoutout.
During the pandemic, Murphy says she was "stir-crazy and nostalgic" and decided to take a drive up to Goodwood to reminisce about the Schitt's Creek days and get one of Annina's famous butter tarts. "There's a bakery in Goodwood called Annina's, which is the best bakery," she told Meyers.
While there, a group of Schitt's Creek super fans saw Murphy "roaming the streets like a maniac" (her words), putting the town of Goodwood back on the map in terms of tourism. Although the Schitt's Creek social media manager warned fans against crowding the small town during the pandemic, Annina's owner Cassano says those Schitt's Creek fans flocking to his cafe for an Annie Murphy-approved butter tart is the only thing that kept his sales up during the coronavirus pandemic.
"[Annie's review] kept our sales the same, our staffing the same," Cassano said. "The health departments actually emailed and they told us, 'You need to find a way to control the crowds that are coming.'"
The store actually needed to hire security guards to man the line that formed outside, which at some points got to 50-60 people deep. He also said there was an increase in mail-orders from the U.S. for butter tarts.
Another fun fact about Annina's Bakeshop? Eugene Levy would regularly stop into the shop to buy meat pies, which is so on-brand for Mr. Levy.
We hope the Schitt's Creek fans visiting the bakery are respectful of social distancing guidelines to keep the Goodwood citizens safe, but we're happy to hear that Schitt's Creek isn't just a lovely show that brings people joy, it's also saving the economy.