'Schitt's Creek' Filming Locations Are Pretty Magical IRL
by Madison Vanderberg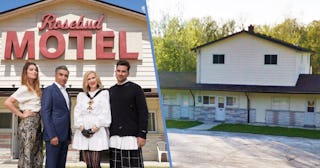 PopTV and Google Maps
Take a look at the real-life Canadian town where Schitt's Creek is filmed
Not only is Schitt's Creek a wildly funny, Emmy award-winning sitcom, but there's something about the small town in the world of the show that is just so… romantic? Escapist? Aspirational? Wouldn't it be nice to eat every meal at Cafe Tropical or shop for bath bombs at Rose's Apothecary? It just seems like a slower, kinder lifestyle and you can actually live it because Schitt's Creek was filmed in the real-life little town of Goodwood, Ontario in Uxbridge Township just north of Toronto.
In fact, the cafe, David's apothecary shop, and Bob's Garage are all situated on the same intersection, while the Rosebud Motel is on Hockley Road in nearby Orangeville, Ontario.
https://www.instagram.com/p/CGQVJD6BHxB/
Dan Levy and his dad Eugene Levy, the shows co-creators, said that fans would often flock to the outdoor set during filming and get REAL into it.
"They would set up their lawn chairs on their front lawns and watch us shoot across the street," Eugene told 92Y Talks. "They would stand around the monitors in the director's booth and actually comment, 'You sure you want to keep this?'" I can't get over how Canadian that is.
Of course, you shouldn't go visit now, as Dan and the show urged fans to hold off on visiting the tiny town during the coronavirus pandemic. The show first tweeted back in March at the start of the pandemic that "we've heard there are still groups of people visiting the town where we filmed #SchittsCreek," to which Dan responded, "The towns where we shot Schitt's Creek were so lovely and accommodating to us. Please show them the same respect. Visiting right now is a threat to the residents' health and safety."
Since it's not safe to travel at the moment and Schitt's Creek, the show, has ran its course, take a virtual tour of the quaint town and imagine yourself sitting in on a town hall meeting, trying to decide who should get the arts and culture grant.
Cafe Tropical
Cafe Tropical IRL
https://www.instagram.com/p/CB8pQuhF_TA/
Rose Apothecary
https://www.instagram.com/p/CFZoPvxH2Fp/?utm_source=ig_embed
Rose Apothecary IRL
The Rosebud Motel
https://www.instagram.com/p/BzQw-GeJ_V3/?utm_source=ig_embed
The Rosebud Motel IRL
https://www.instagram.com/p/CF5pZuZpvYx/
Bob's Garage
Bob's Garage IRL
The whole town is quaint and romantic and since it's so uncommon for a TV show to take place in a real town, it's worth a virtual visit. If you have an hour to kill, also check out the Schitt's Creek or the Goodwood geo-tag on Instagram. I for one am adding Goodwood, Ontario onto my list of post-COVID travel ideas, because the show may be over, but Goodwood, Ontario lives forever.