School Bans Expensive Winter Coats To Avoid 'Poverty-Shaming' Kids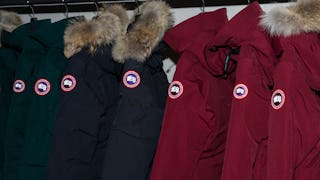 Image via Noam Galai/WireImage
School tells parents that their kids can't wear expensive designer coats to school
In an attempt to "poverty-proof" their campus, a British high school is banning students from wearing certain brands of expensive designer winter coats.
According to the BBC, a letter went home to parents of kids who attend Woodchurch High School in Birkenhead explaining that pricey designer coats, including the brands Moncler, Pyrenex and Canada Goose, would be banned from the school. These coats can cost around $1000, and the school's administration believes they can result in "poverty-shaming" kids whose families are unable to afford them.
Head teacher Rebekah Phillips says both students and parents support the move. "We are very concerned as a school about poverty-proofing our school environment and, as such, we met with groups of pupils and made the decision in consultation with them," she said. "The pupils spoke to us about the pressure on families and the pressure on themselves to wear particular branded coats. A few years ago we introduced a school bag for the same reason."
Phillips claims the coat rule wasn't just the school's idea. "We have had parents approaching us asking us to introduce a ban prior to us writing the letter," she says.
A spokesperson for the school says, "We are concerned with poverty proofing in school, where issues can routinely, if unintentionally, stigmatise children living in poverty and contribute to the increasing cost of the school day to parents and carers."
Reactions on Twitter are mostly positive.
https://twitter.com/jetpack/status/1062818837303828489https://twitter.com/jetpack/status/1063083379976036357
The school claims in a statement that the response from parents "has been overwhelmingly positive and we are very thankful to this."
The ban is set to take effect after the Christmas holidays.